Ahmadinejad made the statement on the sidelines of the Shanghai Cooperation Organization summit in Shanghai today.
"We see this [package] overall as a step forward and I've asked my colleagues to carefully consider it," he said. "God willing, we will express our views in the framework of the national interests of the Islamic Republic of Iran."
The package of incentives is backed by Russia, China, the United States, Great Britain, France, and Germany.
Earlier, U.S. State Department spokesman Sean McCormack criticized the Shanghai Cooperation Organization for inviting Ahmadinejad to attend its summit as an observer.
"Certainly, having Iran there as an observer -- Iran, the world's largest or most significant state sponsor of terrorism, again runs counter to the idea that [the Shanghai Cooperation Organization] is a group dedicated, in part, to countering terrorism in the region," he said.
The Shanghai group's full members are Russia, China, Kazakhstan, Kyrgyzstan, Tajikistan, and Uzbekistan. Observer countries include Iran, Pakistan, India, and Mongolia.
(compiled from agency reports)
Avoiding International Isolation
Avoiding International Isolation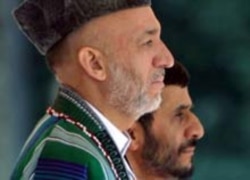 Afghan President Hamid Karzai (left) with Iranian President Mahmud Ahmadinejad in Tehran on May 27 (epa)
DIPLOMATIC OFFENSIVE:
As the United States and the European Union increase pressure on Iran regarding its nuclear program, Tehran has launched a wide-ranging and ambitious diplomatic offensive, including high-level state visits with countries including China, Indonesia, Afghanistan, Azerbaijan, and Pakistan. In May, Iranian President Mahmud Ahmadinejad participated in a high-profile
summit of the so-called Developing 8 (D8) group
of countries in Bali. Below are some links to RFE/RL's coverage of Iran's efforts to boost international support for its position.
Tehran's Shanghai Plans Seen As Bold Geopolitical Stroke
Nonaligned Movement Expresses Support For Iran
Afghan, Iranian Presidents Tout Strong Historical Ties
Iranian Foreign Minister In Pakistan For Energy Talks
Iranian Foreign Minister Visits Baghdad
ARCHIVE
To view all of RFE/RL's coverage of Iran, click here.

THE COMPLETE STORY: RFE/RL's complete coverage of controversy surrounding Iran's nuclear program.