PRAGUE, June 16, 2006 (RFE/RL) -- The head of Iran's Drug Control Headquarters, Fada-Hussein Maliki, told visiting Afghan Interior Minister Moqbal Zarar on June 13 that profits in the narcotics trade surpass those in the oil business. Maliki warned of the connection between narcotics and terrorism, according to IRNA. Maliki also told his Afghan guest that Iran has controlled the drug problem through "prudent policies."

Yet in a meeting earlier the same day with a delegation from the British House of Commons, Maliki pledged that Iran would develop policies to combat drug smuggling and abuse, IRNA reported. Maliki said the counternarcotics campaign must be reformed.

Such policy-oriented efforts have been an issue in Iran for some time, but Maliki's statement suggests that they remain unresolved. Indeed, in late May he promised that a policy would be forthcoming and the campaign would be reformed, according to IRNA on May 20. Maliki added that relevant laws would be amended.

Interdiction Efforts

Protecting Iran's eastern borders and preventing the entry of drug smugglers has been a government priority for many years, but it is a difficult task. The frontier with Afghanistan and Pakistan is more than 1,800 kilometers long, and the terrain is extremely rugged. There is a perception that security efforts have diminished recently, and Iranians were outraged by grisly attacks on motorcades traveling through the southeast in March and again in May.

Iranian national police chief General Ismail Ahmadi-Moqaddam said in early April that Afghanistan and Pakistan cannot secure their borders. He also accused "the narcotic drugs mafia in those countries" of being "officially guided and supported by the Americans," "Aftab-i Yazd" reported on April 10. A few days later, Iranian and Pakistani officials met in the city of Quetta in southwestern Pakistan to discuss tightening border security, IRNA reported on April 12.

Around the same time, the Rasul-i Akram base at which police, military, and other security agencies in southeastern Iran's Sistan va Baluchistan Province will coordinate their activities was established in the city of Zahedan (state television, April 13). During the inauguration ceremony, police chief Ahmadi-Moqaddam said drugs are at the root of problems in the east and that opium cultivation in Afghanistan has worsened since 2002, according to "Aftab-i Yazd" of April 15. Ahmadi-Moqaddam warned that the establishment of the new base would not solve all the problems.
Protecting Iran's eastern borders and preventing the entry of drug smugglers has been a government priority for many years, but it is a difficult task. The frontier with Afghanistan and Pakistan is more than 1,800 kilometers long, and the terrain is extremely rugged.


After the second highway attack, in early May, Iranians' anger over eastern insecurity picked up. Zahedan parliamentary representative Hussein-Ali Shahriari warned that if the central government could not provide security, locals would establish vigilante groups, "Aftab-i Yazd" reported on May 14. Shahriari noted that violence in the province was not a recent development -- 35 people were killed in a 2004 incident, and 11 were killed in 2005. Shahriari accused the United States of encouraging ethnic differences in an effort to worsen the situation.

There was also talk in Iran's legislature of interpellating the interior minister, Hojatoleslam Mustafa Pur-Mohammadi, and of questioning provincial security, law enforcement, and intelligence officials, "Etemad" reported on May 15. Deputy speaker Mohammad Bahonar said that if the police could not establish security, then the Islamic Revolution Guards Corps would be asked to do so.

Qasem Rezai, deputy commander of the Rasul-i Akram base, said later in May that the prevalence of drug trafficking and other forms of crime is due to the absence of jobs, "Aftab-i Yazd" and "Iran" reported. Rezai warned that "one cannot create security with guns." He added that security forces were in control during the day but the bandits owned the night.

Opium Cultivation

The U.S. State Department's Bureau of International Narcotics and Law Enforcement determined in 1998 and 1999 surveys that a "negligible" amount of opium was being cultivated in Iran. The report did not rule out the possibility of cultivation in more remote areas, and reports suggested opium was being cultivated along the border with Turkey.


Opium-poppy cultivation appears to be making a comeback. In Iran's southwestern province of Kohkiluyeh va Boirahmad, there were late-April reports of opium cultivation. One local complained that "in many parts of the province, poppy is openly cultivated and authorities show almost no reaction," "Siyasat-i Ruz" reported on April 24. Another local said poor people resort to opium cultivation because their needs and demands are ignored.
Mohammad Movahed, who represents the province in the national legislature, suggested that people from other parts of Iran are behind the phenomenon, "Siyasat-i Ruz" reported on April 27. Movahed cited the large number of educated but unemployed young people, and argued that "unemployment in the province should be taken seriously." He claimed that young people have told him "explicitly that this matter has made them resort to drug dealing."
Movahed said President Mahmud Ahmadinejad's administration would be more effective creating four realistic provincial job-creation projects than creating 70 different ones.
Nor is Kohkiluyeh va Boirahmad, in the southwest, the only place where opium-poppy cultivation occurs. National police chief Ahmadi-Moqaddam said poppy planting has been going on in various regions "for several years," according to "Siyasat-i Ruz" of April 27.
The deputy secretary-general of Iran's Drug Control Headquarters, on the other hand, said on April 26 that the "mass cultivation" of opium has been eradicated, according to IRNA. He called claims of opium cultivation fabrications, except in some cases where it takes place in remote regions.
Regardless of the government's efforts or talk of "isolated" opium cultivation, the situation appears to be worsening. A Health-Care Organization official noted in Aftab-i Yazd" on April 19 that drug abuse is increasing twice as fast as the population growth rate. Subsequent statements and incidents appearing in the Iranian media hint at the same conclusion.

The secretary of the national pharmacologists association, Seyyed Jamal Vaqefi, said in late April that up to $200 million worth of pharmaceuticals is smuggled into Iran every year, IRNA reported on April 24. He said those drugs are available in many unregulated locations, and he claimed that Iranians consume an excessive amount of drugs.

During a May 16 legislative session, lawmakers from Tabriz and from Taft, Mohammad Reza Mirtajedini and Jalal Yahyazadeh, respectively, said that fake tablets of the drug ecstasy were responsible for the recent deaths of four schoolgirls, "Resalat" reported. They said the tablets were made from rice pesticide.

Between June 3 and June 9, Iranian police seized more than 5 tons of drugs across the country, IRNA reported on June 13. Moreover, 295 smugglers and 465 addicts were turned over to the judiciary.
Security Guarantees For Iran?
Security Guarantees For Iran?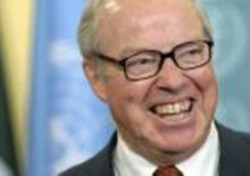 Hans Blix (CTK)

SECURITY GUARANTEES On January 26, RFE/RL Radio Farda correspondent Fatemeh Aman spoke with former UN chief weapons inspector HANS BLIX about the confrontation between Iran and the international community over Tehran's nuclear ambitions. Blix urged the United States to participate in direct negotiations with Tehran and to offer Iran security guarantees that are similar to those being discussed with North Korea...(more)
LISTEN
Listen to the complete interview (about five minutes):

Real Audio
Windows Media

THE COMPLETE STORY: RFE/RL's complete coverage of controversy surrounding Iran's nuclear program.