WASHINGTON, June 16, 2006 (RFE/RL) -- After waging two wars in majority Muslim countries, and launching a war on terror that catches mostly Muslims in its net, it's not surprising that some Muslims argue that their community is under attack from the United States.
Nothing could be less true, according to Yahya Basha, a Syrian-American Muslim who immigrated to the United States in 1972 and since then has lived out his own version of the American dream.
The New Messengers
Basha is one of four civilian ambassadors the U.S. State Department has recruited to carry the message to foreign Muslims that the United States welcomes all religions and rewards immigrants who embrace its democratic values with opportunities and freedom beyond their dreams.
The Bush administration has decided that changing the messenger might improve the credibility of its message.
Next week, Basha and three other American Muslims will begin an eight-day, three-country tour of Europe. Three more teams of Arab- and Muslim-Americans will travel in the coming months to Southeast Asia, the Middle East, and the South Pacific, according to Heidi Fincken, a special adviser to U.S. Undersecretary of State for Public Diplomacy and Public Affairs Karen Hughes.
Hughes told RFE/RL on June 11 that it was originally a German Muslim who issued the invitation. At a meeting with Muslims in Germany, Hughes said she was rebuffed when she asked to meet with more people in the local community. German government officials aren't even welcome, a Muslim woman told her, so why would an American official be? Hughes said she then asked if a Muslim-American would be welcome, and the woman answered with an emphatic "yes."
With that, the State Department's Civic Outreach program was born.
A Land Of Opportunity
Basha, a diagnostic physician who runs a successful medical clinic in Dearborn, Michigan, says he plans to tell his coreligionists in Germany, the Netherlands, and Denmark that America accepts anyone who comes seeking a better life and is willing to work hard to get it.
The experience of Muslim-American immigrants like himself, he says, is proof of his adopted country's "greatness." In contrast, he believes that European Muslims are forced into what he calls a "ghetto mentality."
"I think they feel the isolation, the sanction, and the distance between them and the rest of the population; whether the population doesn't want them, or sanctions isolate them, or they want to stay distant from becoming part of the total society and making contributions to the society," Basha said. "And that, I think, luckily, is not present in this country. Day after day, you find ethnic and [other] minorities trying to blend in, and I think the Arabs and Muslims in America, they are very active participants in society and become part of the fabric of this society. Definitely you see this more in the second generation."
"The biggest misconception I've found is people say they hate American culture in the Middle East," Muslim-American Mehdi Alhassani said. "That's so not true. They're the biggest fans of American culture, if anything. I have cousins in Morocco, and I was shocked that they have all these American CDs and know all the words to the songs even if they don't even speak English."
Basha said the State Department has not coached him on what to say or not to say during the symposiums and meetings overseas. The goal of the trip, he said, is to simply engage in dialogue and share personal stories. He expects to be challenged on his views, he said, but there is little doubt in his mind that as a Muslim, he made the right choice when he came to the United States more than 30 years ago.
"I think there is general European [discontent]; some of it is negative, some of it is jealousy," he said. "But I know in the depths of their minds, whether in Europe or the rest of the world, they feel America is the place, and American people are the people, to copy. Even when I went to Hajj in Saudi Arabia, I found Kentucky Fried Chicken at the door of the Great Mosque near the Kaba. I know there is sometimes disagreement of the policies, but I think time will tell who is going to be the winner."
Appeal To Muslim Youth
At 22, Mehdi Alhassani is the youngest member of the group. The son of Iraqi immigrants who just finished his university studies in Washington, D.C., Alhassani says he wants to talk to European Muslims about integration, which he thinks America does a better job of than Europe. He also wants to challenge Muslim youth on their views of America.
"The biggest misconception I've found is people say they hate American culture in the Middle East," Alhassani said. "That's so not true. They're the biggest fans of American culture, if anything. I have cousins in Morocco, and I was shocked that they have all these American CDs and know all the words to the songs even if they don't even speak English. A lot of them have disagreements about the war in Iraq, but in general they still look up to America as a model nation, a nation that does a great job of integrating immigrants."
Arsalan Iftikhar -- who works at the Council on American-Islamic Relations, the largest U.S. group representing Muslim Americans -- says this kind of public diplomacy is badly needed right now, considering the number of global conflicts that involve Muslims and Islam.
The American Muslim diaspora, he says, is the most economically and politically empowered Muslim minority in the Western world and that information needs to get out so people will stop thinking that the United States is anti-Islam.
But Asra Nomani, a prominent Muslim-American journalist and writer, says the State Department's public-relations efforts are being canceled out by its foreign-policy decisions. Bridging the gap between cultures is always a good idea, she says, but the Muslim world isn't going to change its thinking simply because a group of happy American Muslims come to visit.
'A Poodle And A Pit Bull'
"The bottom line is that you've got one arm of the State Department pushing public diplomacy and the other arm talking tough," Nomani said. "So you've got the poodle and the pit bull, basically, running the State Department's initiative with the world. The Muslim world gets it, too. They get that the pit bull is basically going to win in this battle and [U.S. Secretary of State] Condoleeza Rice and her foreign-policy direction is going to prevail over the public diplomacy."
Nomani said she would rather see the United States focus its efforts on stamping out Wahabbism, the strict form of Islam predominant in U.S. ally Saudi Arabia, which she says is spreading a message of hate and narrow-mindedness through the Muslim world. She talks of a "war within Islam" and says American Muslims are not the best ambassadors to take up the cause.
"I definitely have always felt that American Muslims, sadly, have a credibility problem with the rest of the world because they think that we've got a good scene here: we are coddled and don't have it as bad as they do in the rest of the world," Nomani said.
Integration And Citizenship
Basha, who dined with the president at the White House in November to celebrate the end of Ramadan, is a perfect example of a Muslim who has achieved enviable status in his adopted country. But he said the United States gave him and other Muslims a chance to earn such rewards.
"Some of the things I heard in Germany: they say after generations, they still have their original citizenship and are not given the chance to become German citizens," Basha said. "While here you see it is automatic and fast. People want to be part of this society and the American system rewarded them for that. They proved to be worthy of it."
It is a pitch-perfect endorsement of the United States, but whether it will be enough to reverse prevailing opinions is yet to be seen.
Islam In A Pluralistic World
Islam In A Pluralistic World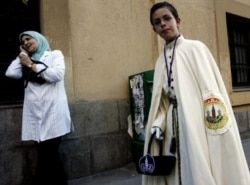 A Muslim woman (left) watches a Christian procession in Madrid in March (AFP)


READ
CONFERENCE ON ISLAM:
A major international conference on Islam concluded in Vienna in November 2005 with strong appeals from prominent Muslim leaders to recognize international terrorism as simply "terrorism." Political figures from Islamic countries, including the presidents of Iraq and Afghanistan, argued that it should never be labeled "Islamic" or "Muslim" terrorism because Islam is based on peace, dialogue, and tolerance. "Salaam" -- meaning "peace" -- was the key word of the three-day conference, titled "
ISLAM IN A PLURALISTIC WORLD
."
Iraqi President Jalal Talibani and Afghan President Hamid Karzai used the word in their remarks to emphasize the peaceful nature of Islam. Other speakers quoted passages from the Koran to the effect that all men and women, regardless of faith, are creatures of God and should live in peace with each other without discrimination
...(more)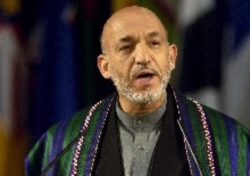 LISTEN
Listen to Afghan President
HAMID KARZAI
's complete address to the Vienna conference (in English):
Real Audio
Windows Media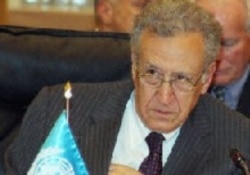 LISTEN
Listen to UN special envoy
LAKHDAR BRAHIMI
's complete address to the Vienna conference (in English):
Real Audio
Windows Media
THE COMPLETE PICTURE:
Click on the image to view a thematic webpage devoted to issues of religious tolerance in RFE/RL's broadcast region and around the globe.