It also bars U.S. citizens from doing business with Lukashenka.
The assets of a number of Belarusian officials were also blocked.
The United States and the European Union imposed travel bans and financial sanctions against Lukashenka and 30 Belarusian officials following his reelection in a poll in March that they said was fraudulent.
(AP)
Assessing The Election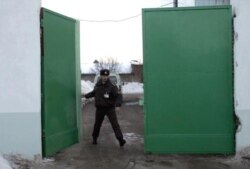 A police officer closes the gate on a Minsk detention center after demonstrators were brought there on March 24, 2006 (RFE/RL)
LOOKING BACK: On March 21, 2006, RFE/RL's Washington office hosted a briefing on the March 19 presidential election in Belarus and its unfolding aftermath. The roundtable discussion featured CELESTE WALLANDER, director and senior fellow at the Russia and Eurasia Program of the Center for Strategic and International Studies; "The New York Times" Moscow correspondent STEVEN LEE MYERS; and RFE/RL Belarus Service Director ALEXANDER LUKASHUK (the latter two speaking via telephone from Minsk).
The roundtable discussion focused on the actions of the administration of President Alyaksandr Lukashenka during the campaign and the election and on what the world can expect from Lukashenka's third term in office.
Listen to the entire briefing (about 60 minutes):
Real Audio Windows Media


THE COMPLETE PICTURE: Click on the image to view a dedicated page with news, analysis, and background information about the Belarusian presidential ballot.