Chechen Separatists Urge Release Of Russian Diplomats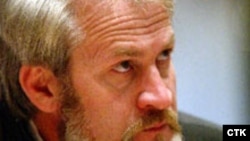 Akhmed Zakayev (file photo) (CTK) June 20, 2006 -- Chechen separatists have denied any contacts with an Al-Qaeda-linked group in Iraq that said it has abducted four Russian diplomats, demanding that Russia pull its troops out of Chechnya.
Akhmed Zakayev, the exiled foreign minister in the self-declared Chechen separatist government, demanded that the Mujahedin Shura Council release the four Russian Embassy employees without any conditions.
In a statement posted on a separatist website, Zakayev also said the Al-Qaeda-linked group's statement looked like an attempt to blacken the name of the Chechen rebel movement and a "provocation by Russian special services."
Russia's Foreign Ministry said it had not received any demands directly, but was actively trying to establish the authenticity of the reports.
Foreign Minister Sergei Lavrov demanded that whoever was holding the four Russians release them immediately and unharmed, urging them not to forget that Russia was a "true friend of the Iraqi people."
(chechenpress.info, Reuters, Interfax)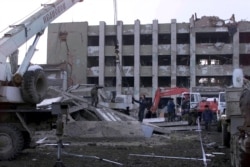 The aftermath of a December 2002 Chechen resistance attack on the main government building in Grozny (epa)


CHRONOLOGY
The
fighting in Chechnya
has raged, with short breaks, since 1994. It has brought misery, death, and destruction to the North Caucasus republic and to Russia as a whole. View an
annotated timeline
of the conflict.

ARCHIVE
RFE/RL's complete coverage of Russia's war-torn Republic of Chechnya.