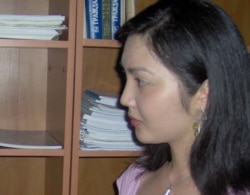 RFE/RL Kyrgyz Service correspondent Bermet Egemberdieva (RFE/RL)
BERMET EGEMBERDIEVA
is 23 years old, a lawyer by education. She joined RFE/RL's Kyrgyz Service in September 2006 and now specializes in social and civic themes. She hosts the weekly program "Society And Your Rights," which is targeted toward a youth audience.
Rferl.org asked Egemberdieva to share some of her thoughts about the making of this feature on domestic violence.
'HUMILIATED IN THEIR OWN FAMILIES': Usually as a journalist I try to keep some distance from my work -- to leave my work at work. But while I was working on this story, I found myself constantly thinking about the fate of this woman and, especially, about her child. I wanted to meet her again -- this time, not as a journalist but as a person who was ready to do something to help somehow. Now the shelter is trying to get in touch with her and put us back into contact.
Of course, I try to be absolutely objective and not to judge people who think that beating women is perfectly normal. But after I had finished this story, I sat down and listened to it -- not as the author of the piece, but as a listener. That is when some completely different feelings arose in me -- a feeling of rage, of outrage for women who are being humiliated in their own families by the people who are closest to them. To be honest, it took all my effort to conceal my indignation and, even, hatred for those people who not only were indifferent to this subject but who actually advocated domestic violence.
But I also think that women contribute to this. To some extent, they enable men to continue to oppress them. At some point, a person has to be strong, decisive, and to stop constantly feeling sorry for oneself. Having studied the law, I know that our legislation completely guarantees the rights of woman and protects them from domestic violence. But women simply don't use this protection. Maybe it is true that many women are physically weaker than men, but this is no reason to oppress them, to destroy families and people's lives.
Other stories on domestic violence and women's rights:
Croatia: A Human Trafficking Victim Speaks With RFE/RL
Self-Immolation Of Kurdish Women Brings Concern
Self-Immolation Of Women On The Rise In Western Afghanistan
Central Asian Women's Rights Groups Fight Gender Violence
Women's Conference Sees Progress On Rights Overshadowed By Violence
ARCHIVE
To view an archive of RFE/RL's coverage of women in its broadcast region, click here.

SUBSCRIBE
For a regular review of civil-society developments throughout RFE/RL's broadcast region, subscribe to "RFE/RL (Un)Civil Societies."