Mottaki, who made the comments on the sidelines of a meeting of the Organization of the Islamic Conference in Baku, did not say when Iran will respond.
"The proposed package by the 5+1 group [UN Security Council permanent members China, France, Great Britain, Russian and the United States, plus Germany] is being considered by the Islamic Republic of Iran," he said.
"This consideration is serious and exact. When [the package of incentives] was offered, we did not agree on a [deadline] for the [Iranian] response. We will inform our friends in Europe as soon as we will finalize our review of [the offer]," he added.
On June 19, U.S. President George W. Bush warned Iran of "progressively stronger" political and economic sanctions if it refuses to freeze nuclear activities in return for talks.
(with material from AFP)
Talking Technical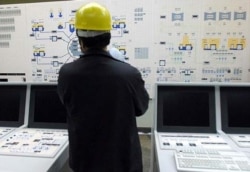 A control panel at the Bushehr nuclear power plant (Fars)

CASCADES AND CENTRIFUGES: Experts and pundits alike continue to debate the goals and status of Iran's nuclear program. It remains unclear whether the program is, as Tehran insists, a purely peaceful enegy project or, as the United States claims, part of an effort to acquire nuclear weapons.
On June 7, 2006, RFE/RL correspondent Charles Recknagel spoke with nuclear expert Shannon Kile of the Stockholm International Peace Research Institute in Sweden to help sort through some of the technical issues involved. "[Natanz] will be quite a large plant," Kile said. "There will be about 50,000 centrifuges and how much enriched uranium that can produce [is] hard to say because the efficiency of the centrifuges is not really known yet. But it would clearly be enough to be able to produce enough [highly-enriched uranium] for a nuclear weapon in fairly short order, if that's the route that they chose to go...." (more)
RELATED ARTICLES
Tehran Says It Is Working On Advanced Nuclear Fusion
Would Light-Water Reactor Suit Tehran's Needs?
Satellite Images Raise Questions About Iran's Nuclear Program
Centrifuges And Political Spin?
How Close Is Iran To Getting Nuclear Bomb?
Iran: The Worst-Case Scenarios

THE COMPLETE STORY: RFE/RL's complete coverage of controversy surrounding Iran's nuclear program.