Islamic Countries Call For Talks On Iran Nuclear Crisis
The OIC meeting hall in Baku on June 19 (Courtesy Photo) June 21, 2006 -- The 57-member Organization of the Islamic Conference (OIC) said in a declaration adopted in Baku today that resuming negotiations "without any  preconditions" is the only way to resolve Iran's nuclear issue.
The organization also called for the establishment of a nuclear-free zone in the Middle East and for the "prompt placement" of Israel under the control of the International Atomic Energy Agency.
(AFP)
Avoiding International Isolation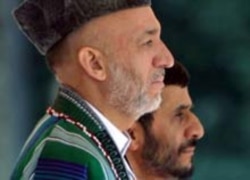 Afghan President Hamid Karzai (left) with Iranian President Mahmud Ahmadinejad in Tehran on May 27 (epa)
DIPLOMATIC OFFENSIVE:
As the United States and the European Union increase pressure on Iran regarding its nuclear program, Tehran has launched a wide-ranging and ambitious diplomatic offensive, including high-level state visits with countries including China, Indonesia, Afghanistan, Azerbaijan, and Pakistan. In May, Iranian President Mahmud Ahmadinejad participated in a high-profile
summit of the so-called Developing 8 (D8) group
of countries in Bali. Below are some links to RFE/RL's coverage of Iran's efforts to boost international support for its position.
Tehran's Shanghai Plans Seen As Bold Geopolitical Stroke
Nonaligned Movement Expresses Support For Iran
Afghan, Iranian Presidents Tout Strong Historical Ties
Iranian Foreign Minister In Pakistan For Energy Talks
Iranian Foreign Minister Visits Baghdad
ARCHIVE
To view all of RFE/RL's coverage of Iran, click here.

THE COMPLETE STORY: RFE/RL's complete coverage of controversy surrounding Iran's nuclear program.