PRAGUE, June 23, 2006 (RFE/RL) -- When the former Uzbek interior minister arrived in Germany in December to receive medical treatment, human rights groups believed this was a rare opportunity to bring to book the man responsible for sending in troops to crush antigovernment demonstrations in Andijon and for what the UN has described as the "systematic" use of torture in the country's prison.
The result of the crackdown in Andijon in May 2005 was bloodshed on a massive scale. The Uzbek government said 189 died, many of them security forces, the others armed militants; witnesses said hundreds died, almost all of them unarmed civilians, and many of them women and children.
HRW labeled the ruling "unconscionable" and called on German authorities to pay "more than lip service to international justice."
But the result of the legal submission by eight Uzbeks who claim to be victims of torture or survivors of the violence in Andijon was a huge disappointment for Human Rights Watch (HRW), which helped them file the case against Almatov and 11 other Uzbek officials. They believed Almatov had a compelling case to answer, but he left Germany quickly and quietly and on March 30 the country's senior prosecutor, Kay Nehm, opted not to open an investigation. Nehm reasoned that the likelihood of a successful investigation was "nonexistent," since the probe would have to be carried out in part in Uzbekistan and the Uzbek government was unlikely to cooperate.
Since then, Nehm has moved on and on June 22 HRW urged his successor, Monika Harms, to reverse that decision, labeling Nehm's ruling "unconscionable" and calling on German authorities to pay "more than lip service to international justice."
Veronika Szente Goldston, HRW's advocacy director for Europe and Central Asia, dismisses the grounds for Nehm's ruling, saying his arguments were "extremely weak."
There was little evidence, she said, of "the kind of scrutiny that you would expect from a federal prosecutor of Germany," Szente Goldston says. Nehm appears to have accepted "at face value" the Uzbek government's claims that conditions in the country's prisons are improving, she says.
HRW also argues the decision ignored the fact that hundreds of Uzbeks who were witnesses of the violence in Andijon or victims of torture available outside Uzbekistan, some of them in Germany itself and in nearby countries such as the Netherlands, Switzerland, and Sweden.
Szente Goldston says the German ruling also failed to acknowledge that a number of international officials had offered to testify. They included two United Nations' special rapporteurs on torture -- Manfred Novak and his predecessor, Theo Van Boven -- as well as Craig Murray, a former British ambassador to Uzbekistan and an outspoken critic of the Karimov regime.
The Views Of UN Rapporteurs
Asked by RFE/RL, Van Boven said there is no question in his mind that Almatov "of course" must have known about the use of torture.
"While we, as rapporteurs, have investigated this thoroughly, and came to that conclusion, it was my impression that the authorities did not want to know the truth -- or did not get to know the truth -- and that was reflected in my report," Van Boven said.
He also thinks Uzbek President Islam Karimov is and should be aware of the use of torture, and should be held responsible. "If you are a head of the state, you cannot just pretend that you are unaware of these things," he argues. "There are others -- like [former President Augusto] Pinochet in Chile, who has said the same thing. But finally it turns out that he in fact knew a great deal of what was happening, because he consulted every day nearly with his...head of security and investigations. Now President Karimov is certainly aware of these [events], and also I would say [is] criminally responsible for these practices."
Both Van Boven and Nowak have themselves already raised their concerns with the German authorities. In a letter sent on June 13, Van Boven expressed regret about the decision not to open an investigation against Almatov. He explained to RFE/RL that his accounts were "misrepresented" by the former German federal prosecutor and he wanted to "correct" them with his letter.
The current UN rapporteur on torture, Manfred Nowak, wrote to the German authorities on June 14, expressing "concern" about their failure to investigate Almatov despite what he called "significant, serious, and credible evidence of systematic torture by law-enforcement officials in Uzbekistan."
In 2002, Van Boven had similarly concluded that there was evidence of "systematic" torture at Uzbek prisons and detention facilities.
He also says a German decision to try Almatov would mark "an important step in the struggle against impunity."
HRW 'Very Optimistic'
Wolfgang Kaleck, a human rights lawyer representing HRW and the eight Uzbeks plaintiffs, is convinced prosecutors should launch an investigation even if there is no certainty Almatov could be brought to trial.
"The Germans should start the investigation, and then [they] can look for Almatov at another moment," he says, arguing that a German indictment could be followed by an international arrest warrant. For the time being, though, "we are talking about the beginning of a criminal investigation," he says.
A spokeswoman for the German Federal Prosecutor's Office, Frauke-Katrin Scheuten, told RFE/RL today that Kaleck's request is under consideration and thus prosecutors cannot comment on the case.
Kaleck insists he is "very optimistic" about the current appeal and the chances of Germany's new prosecutor reopening the case. He says he expects a response within a month.

Andijon Anniversary Conference
Andijon Anniversary Conference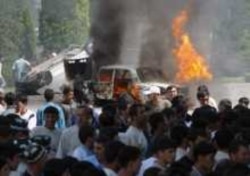 Violence in Andijon, Uzbekistan, on May 14, 2005 (epa)


TALKING ABOUT ANDIJON:
On May 9, 2006, RFE/RL, the National Endowment for Democracy, and U.S.-based human rights organizations cohosted a conference on the May 2005 events in Andijon and their aftermath in Uzbekistan and throughout the region. The first panel featured Andijon eyewitness
GALIMA BUKHARBAEVA
, National Endowment for Democracy Fellow
NOZIMA KAMALOVA
, RFE/RL Central Asia analyst
DANIEL KIMMAGE
, and others. The second panel featured presentations by U.S. Senator
JOHN MCCAIN
and U.S. Congressman
CHRISTOPHER SMITH
, who used the forum to announce they had introduced legislation calling for sanctions and other measures against the government of President Islam Karimov.
LISTEN
Listen to the Andijon conference. Part One (70 minutes):
Real Audio
Windows Media
Part Two (60 minutes):
Real Audio
Windows Media
The Uzbek government's response:
Real Audio
Windows Media


THE COMPLETE STORY: A dedicated webpage bringing together all of RFE/RL's coverage of the events in Andijon, Uzbekistan, in May 2005 and their continuing repercussions.
CHRONOLOGY
For an annotated timeline of the Andijon events and their repercussions, click here.