The trip comes with Iran continuing to consider an incentives offer from six world powers in exchange for Iran halting uranium enrichment.
Speaking to reporters upon his arrival in Tehran on the evening of June 24, Gul said he was in Iran to follow up bilateral cooperation and exchange views with Iranian officials on major international and regional issues.
Turkey Urges More Talks
Gul said Ankara supported a diplomatic solution to the dispute.
"Being a neighbor and a friendly country, Turkey is trying to do what it can in diplomatic ways to sort out the nuclear issues of Iran," Gul said.
During his two-day visit, Gul is expected to meet with President Mahmud Ahmadinejad, chief nuclear negotiator Ali Larijani, and the head of Expediency Council and former President Ali-Akbar Hashemi-Rafsanjani.
Meanwhile, Germany has told Iran it must halt uranium enrichment if it wants to negotiate with six world powers on an offer of incentives aimed at resolving the nuclear standoff with Tehran.
Germany Wants A Quick Decision
German Foreign Minister Frank-Walter Steinmeier said after meeting his Iranian counterpart in Berlin on June 24 that Iran must stop enrichment "very quickly."
"It's important to us to get a clear picture as soon as possible whether negotiations can resume," Steinmeirer said. "I can only reiterate -- which is what I did during our talks -- and urge Iran to implement very quickly a suspension of [uranium] enrichment to enable negotiations to begin."
But Iranian Foreign Minister Manuchehr Mottaki reiterated his country's position that any talks must be without pre-conditions.
"We welcome negotiations without preconditions. In our view it's very important that the international community be aware of this issue," Mottaki said.
Mottaki said the package was still under review by the Iranian leadership. He said the package contained some positive points and also proposals that need to be clarified.
The five permanent members of the United Nations Security Council -- the United States, Russia, China, Britain, France --, plus Germany, have offered Iran incentives to curb its nuclear program.
The West suspects that Iran is trying to make a nuclear bomb, a claim Tehran denies.
Avoiding International Isolation
Avoiding International Isolation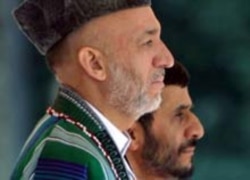 Afghan President Hamid Karzai (left) with Iranian President Mahmud Ahmadinejad in Tehran on May 27 (epa)
DIPLOMATIC OFFENSIVE:
As the United States and the European Union increase pressure on Iran regarding its nuclear program, Tehran has launched a wide-ranging and ambitious diplomatic offensive, including high-level state visits with countries including China, Indonesia, Afghanistan, Azerbaijan, and Pakistan. In May, Iranian President Mahmud Ahmadinejad participated in a high-profile
summit of the so-called Developing 8 (D8) group
of countries in Bali. Below are some links to RFE/RL's coverage of Iran's efforts to boost international support for its position.
Tehran's Shanghai Plans Seen As Bold Geopolitical Stroke
Nonaligned Movement Expresses Support For Iran
Afghan, Iranian Presidents Tout Strong Historical Ties
Iranian Foreign Minister In Pakistan For Energy Talks
Iranian Foreign Minister Visits Baghdad
ARCHIVE
To view all of RFE/RL's coverage of Iran, click here.

THE COMPLETE STORY: RFE/RL's complete coverage of controversy surrounding Iran's nuclear program.