The Mujahedin Shura Council said in a statement issued the same day that the diplomats were killed "in revenge for the torture, killing, and expulsion of our brothers and sisters by the infidel Russian government," an allusion to Russia's war in Chechnya. The council had earlier issued demands that Russia pull out of Chechnya, thereby linking the fate of the predominantly Muslim republic to the Iraq insurgency.

Russian Foreign Minister Sergei Lavrov today said he doubts the authenticity of the video footage, and the Foreign Ministry is working to verify the killings.

The men were seized after the automobile they were riding in was attacked in Baghdad's affluent Mansour neighborhood on June 3. They included the embassy's third secretary, Fyodor Zaitsev, and three other staffers: Rinat Agliulin, Anatoly Smirnov, and Oleg Fedoseyev.

Global Effort
Mustafa Mustafa Alani, a regional expert at the Gulf Research Center in Dubai, says claiming to fight on behalf of Chechen Muslims fits into Al-Qaeda's global war against "infidels."

"What they are saying fits with the picture, the general picture of a universal jihad [holy struggle], and Al-Qaeda is a universal organization which has adopted this principal," Alani said.

Alani notes that Al-Qaeda leader Osama bin Laden has on numerous occasions called for a global war against "infidels" -- in Darfur, in Palestine, Chechnya, and other hot spots.

Alani also points out that Al-Qaeda is an old enemy of Russia's. Bin Laden himself fought Russians in Afghanistan; others, such as the Arab fighter Khatab, fought in Chechnya and were killed there.

Alani says that for many secular insurgent groups -- which he says make up the majority of the resistance and are not related to Al-Qaeda -- Chechnya means very little. However, he says, the kidnapping of Russian diplomats fits well into general tactics of insurgency aimed at driving foreign diplomats from Iraq.

"The fact that they [foreign countries] have a diplomatic representation in Iraq and in Baghdad [is enough]," Alani said. "We have seen the Egyptian diplomats killed, Moroccans. All these other diplomats have been shot or either kidnapped or killed. So it is a war against any diplomatic presence in Iraq."
Russian Response
David Hartwell, who follows the Middle East for the London-based Jane's Information Group, says he believes the Kremlin will find a way to use the situation to its own advantage.

"The Kremlin will make use of that. I don't think they would be, in that case, any different from the other states that have used, you know, the Al-Qaeda threat in whatever form it manifests itself as a reason for, as justification for either a military action or a diplomatic action."

In an interview with RFE/RL's North Caucasus Service on June 20, Separatist Foreign Minister Akhmed Zakayev criticized the kidnapping of the Russian diplomats in Iraq. "It is a rude provocation against the Chechen leadership, against the Chechen resistance, and against the whole Chechen people," he said.

Zakayev said the Chechen resistance seeks to solve the conflict with Russia through political negotiations and does not need Al-Qaeda's assistance.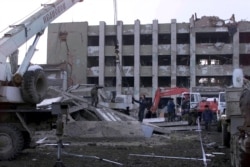 The aftermath of a December 2002 Chechen resistance attack on the main government building in Grozny (epa)


CHRONOLOGY
The
fighting in Chechnya
has raged, with short breaks, since 1994. It has brought misery, death, and destruction to the North Caucasus republic and to Russia as a whole. View an
annotated timeline
of the conflict.

ARCHIVE
RFE/RL's complete coverage of Russia's war-torn Republic of Chechnya.