Former Bosnian Serb Premier Wanted By UN Court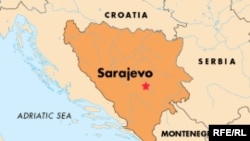 (RFE/RL) June 27, 2006 -- The UN war crimes tribunal in the Hague today issued an arrest warrant for a former Bosnian Serb prime minister, Branko Deric, for failing to testify in a trial.
Deric was subpoenaed to testify last week in the case of another Bosnian Serb former leader, Momcilo Krajisnik, but failed to appear in court.
If convicted, Deric could spend up to seven years in prison.
(AFP)