Four Presidents Mark Anniversary Of 1956 Polish Riots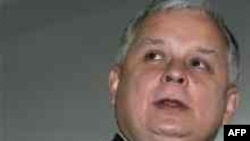 Polish President Lech Kaczynski (file photo) (AFP) June 28, 2006 --The presidents of Poland, Hungary, the Czech Republic, and Germany gathered today in the Polish city of Poznan to commemorate the 50th anniversary of anticommunist protests in the city.
President Lech Kaczynski was joined by counterparts Horst Koehler of Germany, Laszlo Solyom of Hungary, and Vaclav Klaus of the Czech Republic to remember the clashes that broke out between Polish workers and communist militia in June 1956.
An estimated 74 people died after security forces moved in to suppress the riots.
(AP)