Speaking at United Nations headquarters in New York on June 29, Mottaki said Iran will deliver its answer no earlier than August. He said questions about the incentives package must be settled during a July 5 meeting between European Union High Representative for Common Foreign and Security Policy Javier Solana and Iran's top nuclear negotiator, Ali Larijani.
The Group of Eight (G8) leading industrialized countries today said they expect a "clear and substantive" answer from Iran by July 5 as to whether it accepts their offer.
No Time Limit
But Mottaki said the package did not come with a time limit, and that Iran will respond to the offer in August, after "ambiguities" have been clarified.
"I repeat that [the] Islamic Republic of Iran seriously and carefully is reviewing the proposed package," he said. "During Mr. Solana's trip to Tehran we did not agree on any specific date to respond. It has been emphasized that the reviews will be done carefully. Different committees are considering the different segments of the proposed package and as soon as it is done, which I don't think will be earlier than August, we will make an announcement."
Asked why it is taking for Iran so long to respond to the proposed package and whether the delay is not simply a ploy to win time Mottaki said that "ambiguities" in the proposal are substantial and need time to be clarified.
"The response of the Islamic Republic of Iran to the proposed package is clear and substantive," he said. "But the proposed package contains questions and ambiguities which must be clarified. Some of these ambiguities may be clarified by Mr. Solana but the negotiations with Mr. Solana are format negotiations. The response to those question will be a substantive response which takes time for the decision-making process. I said the response to these will be in August, I didn't say whether it will be in early August or mid-August."
Iran's Delegate To Human Rights Council Questioned
Mottaki was also asked about the participation of Tehran's prosecutor-general, Said Mortazavi, in the Iranian delegation to the opening session of the new UN Human Rights Council in Geneva. Mortazavi is considered a gross human rights violator and is presumed by many in the West to have played a key role in the arrest and subsequent death in detention of Canadian-Iranian photojournalist Zahra Kazemi in June 2003.
"I think the questioner cannot suggest that a country that designates their representatives at the international Human Rights Council must ask other countries for permission," Mottaki said. "This has no relation to other countries. Obviously, members are diplomats, Justice Department members, and others who deal with important human rights issues. They must participate in the human rights committee.
"The issue of the case you mentioned [the case against Mortazavi initiated by Kazemi's family] has been completed in its legal process and it is now at the appeal level of the judicial review in Iran. Therefore I think the issue is clear," he added.
An investigation into the incident by Iran's parliament concluded that Mortazavi had personally arrested Kazemi after she was seen taking pictures of Evin Prison in Tehran. It also found that Mortazavi was present at the interrogation session where Kazemi was hit in the head with great force. Shortly after that, she slipped into a coma and died.
What Would Sanctions Mean?
What Would Sanctions Mean?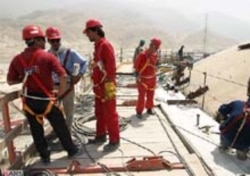 Economic sanctions could further undermine Iran's already shaky economy (Fars)


MOVING TOWARD SANCTIONS: If the United Nations Security Council imposes sanctions on Iran, domestic support for Iranian President Mahmud Ahmadinejad will wane, according to ALEX VATANKA, Eurasia editor for Jane's Information Group.
Vatanka told a February 24 RFE/RL briefing that "economic sanctions will hurt the average Iranian" and, consequently, many "will blame the ruling clerics" for making life difficult and "impairing the country's long term development."
Vatanka said sanctions would be a serious challenge to the Iranian government. If harsh economic sanctions were imposed, Iran's poorest population will be hurt the hardest -- and might react "as they did in the 1970s and protest in the streets." Sanctions on travel, Vatanka said, would hurt a many Iranians because "Iran is a nation of small traders" who depend on the ability to travel to earn an income. According to Vatanka, unemployment in Iran is estimated at 30 percent, "so small trading is essential to survival." Although current U.S. sanctions "haven't worked," he said, "Iranians fear an oil embargo." He stressed that "oil revenues are a major part of the economy, so it is critical to look at this sector."
Should negotiations with the European Union and the UN fail, Vatanka believes that Iran would follow a "North Korea model," since Ahmadinejad's base of support among the "Islamist militias" has been "urging withdrawal from the NPT [Nuclear Non-Proliferation Treaty]." The Iranian government's "tactic" so far, Vatanka said, is governed by the belief that "by shouting the loudest, you'll get concessions [from the West]."
LISTEN
Listen to the complete panel discussion (about 60 minutes):

Real Audio
Windows Media

THE COMPLETE STORY: RFE/RL's coverage of the controversy surrounding Iran's nuclear program.
CHRONOLOGY
An annotated timeline of Iran's nuclear program.