RFE/RL: Allow me to bring up a last-minute topic. Romania's Defense Ministry has announced, a couple of hours ago, its intention to withdraw its 890-strong contingent from Iraq. Any comment?
John Shimkus: You have caught me by surprise. This is the first I've heard of it. What I'd first look at is, what is the rotation, what was the original commitment, what kind of negotiations and debate have occurred with the coalition forces, is this a surprise or was this in essence known to be about to occur? That would tell me a lot of things. Now, if this is something that is a shocker, a surprise, and has not been planned for by the coalition, then I'd be very disappointed. If it is a process by which we knew what was coming and Romania was working closely with the coalition -- it is not a surprise -- then I don't think, well, in basketball parlance, there'd be no harm, no foul.
RFE/RL: A lot is unclear at this hour, but it would appear that the announcement has taken people by surprise--and caused opposition-- even inside Romania, all the way up to the president. The U.S. ambassador to Bucharest, Nicholas Taubman, has just released a statement, and allow me to quote a sentence, "I have the impression that not all of the relevant parties, whether within Romania or beyond, were consulted before this proposal was announced."
Shimkus:
Well, if that's the case... you know, I'm on the NATO Parliamentary Assembly and I'm on the Defense Subcommittee, and we were very proud of the, in essence, the redeployment and the whole new basing issue and debate in Europe. And I know Romania is part of that, along with Bulgaria. And both countries benefit -- and the United States benefits -- by strong allies and working relationships. If this has occurred not in consultation, that would really question our commitment to each other and maybe we ought to relook at the basing debate.
RFE/RL: The communique of the Romanian Defense Ministry specifies that Romania will stay in Afghanistan and will maintain a token training group in Iraq.
Shimkus: That's obviously positive, but I would still say that this announcement about Iraq, when we are having all this success in Iraq right now.... You now have a government that has formed that is going to be there for four years. You've got movement toward Sunni reconciliation. You have [Iraqi militant Abu Mus'ab] al-Zarqawi now dead. This is not the time to show a lack of resolve by the international community. Again, if this hasn't been done in consultation with the coalition, then I would be highly disappointed.
The International Coalition In Iraq
The International Coalition In Iraq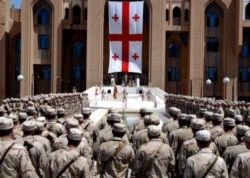 Georgian soldiers marking Georgian Independence Day in Baghdad on June 6 (epa)
COALITION MEMBERS: In addition to the United States, 28 countries are Multi-National Force-Iraq (MNF-I) contributors as of May 31, 2006: Albania, Armenia, Australia, Azerbaijan, Bosnia-Herzegovina, Bulgaria, the Czech Republic, Denmark, El Salvador, Estonia, Georgia, Italy, Japan, Kazakhstan, Latvia, Lithuania, Macedonia, Moldova, Mongolia, the Netherlands, Poland, Portugal, Romania, Singapore, Slovakia, South Korea, Ukraine, and the United Kingdom. Fiji is participating as part of the UN mission in Iraq. Hungary, Iceland, Slovenia, and Turkey are NATO countries supporting Iraqi stability operations but are not part of MNF-I.
NON-U.S. MILITARY PERSONNEL IN IRAQ: United Kingdom, 8,000 as of May 26, 2006; South Korea, 3,237 as of May 9, 2006; Italy, 2,900 as of April 27, 2006; Poland, 900 as of May 30, 2006; Australia, 900 as of March 28, 2006; Georgia, 900 as of March 24, 2006; Romania, 860 as of April 27, 2006; Japan, 600 as of May 30, 2006; Denmark, 530 as of May 23, 2006; All others, 1,140.
(Source: The Washington-based Brooking Institution's Iraq Index of June 15, 2006)


THE COMPLETE STORY: RFE/RL's complete coverage of events in Iraq and that country's ongoing transition.
RADIO FREE IRAQ: To visit the Arab-language website of RFE/RL's Radio Free Iraq, click here.