Under the order issued by Khamenei, the government reportedly could sell off 80 percent of its holdings in banking, mining, industrial, and transport companies.
If implemented, the move could have a major effect on the Iranian economy, which is overwhelmingly state-run. The order must still be detailed and meet with the approval of other branches of government before it can proceed.
Khamenei's order excludes a number of banks, telecommunications providers, and transportation enterprises, according to AFP.
Iran's budget deficit has ballooned recently, with inflationary pressure and social factors weighing on the country's economy.
Khamenei has promoted a path of privatization in the past, as did current President Mahmud Ahmadinejad's predecessor, Mohammad Khatami.
President Ahmadinejad warned in mid-May that he would reverse state sales made under Khatami's administration if such transactions were found to have been "unjustly turned over," AFP noted. Ahmadinejad suggested that "public properties and factories worth billions of rials were sold off at cheap prices to certain groups" within "the framework of privatization," according to AFP.
The "Iran Daily," published by the official IRNA news agency, and other domestic media outlets have long bemoaned a perceived lack of management expertise and other industrial woes in the country. A front-page editorial in "Iran Daily" in November, titled "Deficit Dilemma," suggested that "the problem is that major state-owned enterprises cannot be ceded to the private sector because they are mostly in the red and the private sector neither has the time, money, nor energy to venture into the companies (irrespective of their size) and reverse the trend."
(with additional RFE/RL reporting)
Women In Iran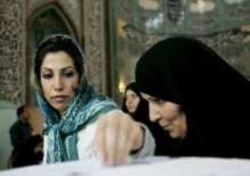 Women in Tehran (epa file photo)

CALLING FOR MORE RIGHTS: Although women played key roles in Iran's 1979 Islamic Revolution, the place of women in post-revolutionary society has been a vexing question. Iranian women have struggled to bring attention to their calls for greater rights in their country's rigid theocratic system, calls that have often clashed with the values proclaimed by conservatives in society. (more)
RELATED ARTICLES
Tehran Police Renew Campaign To Combat 'Un-Islamic' Dress
Iranian Peace Prize Laureate Shirin Ebadi On Women's Rights
Activists Concerned About Self-Immolation Of Iranian-Kurdish Women
The Younger Generation's 'Tehran Blues'
ARCHIVE
RFE/RL's coverage of Iran. RFE/RL's coverage of issues concerning women throughout our broadcast area.

SUBSCRIBE
For a regular review of civil-society developments throughout RFE/RL's broadcast region, subscribe to "RFE/RL (Un)Civil Societies."