Rally In Memory Of Belarusian Opposition Figures Barred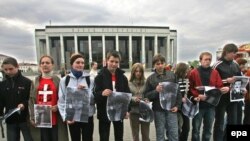 Young Belarusians at a rally in memory of another of the disappeared, Yury Zakharenka, this May (epa) July 8, 2006 -- Police in the Belarusian capital Minsk have prevented opposition supporters from rallying in memory of critics of the Belarusian regime who have been missing since 1999 and 2000.
Municipal and riot police forced the 60 people to Oktyabrskaya Square with their hands behind their heads.
July 7 was the sixth anniversary of the disappearance of Dmitry Zavadsky, a cameraman for Russian TV news. The previous year, two opposition leaders and a friend disappeared.
All four are suspected to have died, but no body has been found.
(AP)

RFE/RL Belarus, Ukraine, And Moldova Report

SUBSCRIBE For weekly news and analysis on Belarus, Ukraine, and Moldova by e-mail,
subscribe to "RFE/RL Belarus, Ukraine, And Moldova Report."