Officials say the bomb exploded early on July 9 when Oleg Alborov, head of the unrecognized state's security council, opened his garage.
Deputy Prime Minister Boris Chochiev is quoted as blaming the attack on Georgian secret services.
Georgia's Interior Ministry dismissed the allegation.
Russian General Marat Kulakhmetov -- who commands mixed Russian, Georgian, and Ossetian troops protecting the fragile peace in the area -- said the incident was aimed at further destabilizing the conflict zone.
South Ossetia declared independence from Georgia in 1992 and fought a short war against Georgian troops.
Tension has risen recently amid a drive by Georgian President Mikheil Saakashvili to restore the central government's control over the region.
(AFP, AP)

Universal Principles?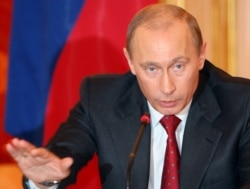 President Putin at a Kremlin meeting in April (epa)
PUTIN SPEAKS OUT: During a January press conference, Russian President Vladimir Putin said there is a need for "universal principles" to settle "frozen" conflicts in the CIS. His comments came against the background of impending talks on the future status of Kosovo, which many predict will grant it a form of "conditional independence" from Serbia and Montenegro. As an ally of Serbia, Moscow has consistently opposed the idea of Kosovar independence. Putin's remarks suggest he may be shifting his position, but only if the principles applied to Kosovo are also applied to frozen conflicts in the former Soviet Union. If Kosovo can be granted full independence, he asked, why should we deny the same to Abkhazia and South Ossetia? (more)
RELATED ARTICLES
Putin Calls For 'Universal Principles' To Settle Frozen Conflicts
Russia Key To OSCE's Attempts To Resolve Frozen Conflicts
Georgia Pushes For EU Backing In Standoffs With Russia
ARCHIVE
Click here to view archives of RFE/RL's coverage of the conflicts in Abkhazia, Chechnya, Kosovo, Nagorno-Karabakh, Ossetia, and Transdniester.