Isuzu To Produce Small Trucks In Russia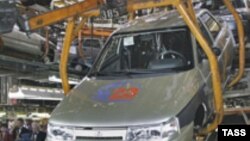 Isuzu faces stiff competition from, among others, Lada -- whose 23rd millionth car, pictured, rolled off the production line in August 2005 (ITAR-TASS) July 11, 2006 -- Japanese automaker Isuzu says it is starting to produce small trucks in Russia.
The company said in a statement that Isuzu Motors will begin full-scale production of the ELF light commercial truck this month, with sales of the vehicle expected to start in Russia in September.
The production will be carried out under an agreement between Isuzu and OAO Ulyanovsky avtomobilny zavod.
Isuzu says it hopes to produce 10,000 vehicles annually in Russia within three years.
(AP)