Death Toll In Blasts In India Rises To Over 200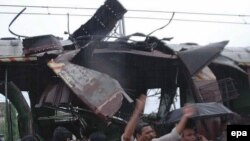 Police and onlookers surround the remains of one of the commuter trains destroyed in the series of blasts in Mumbai (epa) July 12, 2006 -- The number of deaths caused by a series of bombs in India's financial center, Mumbai, on July 11 has risen to at least 200 killed. More than 700 others were injured.
No one has yet claimed responsibility for what Indian authorities have called a coordinated series of terrorist attacks that targeted the city's train network.
Indian police say the attack bears the hallmarks of a militant Islamist group, Lashkar-e-Taiba.
Lashkar-e-Taiba, along with two other banned militant groups, has denied responsibility.
Indian Prime Minister Manmohan Singh called the attack a "shameful act" designed to spread fear, but urged citizens to remain calm and carry on with their normal activities.
The blasts have been condemned by India's neighbor, Pakistan, and countries around the world.
Police in the U.S. city of New York announced increased security measures on the city's subway system following the Mumbai blasts, but New York officials said they knew of no specific threat.
(compiled from agency reports)