PRAGUE, July 13, 2006 (RFE/RL) -- Kazakh environmentalists say the country's environmental safety and water security are at risk.
The problem lies in China's use of two rivers -- the Ili and the Irtysh -- both of which begin in China's Xinjiang Uyghur Autonomous Region (XUAR), which borders Kazakhstan.
"There will be ecological refugees. We'll have a lifeless desert here. A great catastrophe is ahead of us. It will be worse than Aral."
More People, More Water
In an effort to fight separatism by the Uyghurs, who are Turkic-speaking Muslims, Beijing announced a "Go West" policy in 2000 that has led to many hundreds of thousands of Han Chinese being resettled in the XUAR, vastly increasing the population in the province.
Meanwhile, Beijing is exploring for oil fields in the country's west as fields in China's northeast are producing less oil and extraction is becoming more expensive.
Amid China's thirst for oil, the oil fields in Xinjiang are virtually untouched. The Turpan field, one of three large fields, is estimated to have 10 billion tons of oil. But the fields are deep in the desert and development will require people and equipment, the kind of development that requires water.
Mels Eleusizov, the head of Kazakhstan's Tabighat (Nature) movement and a former presidential candidate, tells RFE/RL that China's use of the Ili and Irtysh rivers raises concerns.
"Those lands are semideserts like [those in] Kazakhstan," he said. "They demand lots of water. [China] is developing irrigation [and] industry there. The population has been rising. Respectively, more water will be extracted from the two rivers that begin in China -- the Ili and the Irtysh. The decrease of water is a serious problem [for Kazakhstan]."
Lake Balkhash
The Irtysh River rises in China's Altay Mountains, where it is called the Black Irtysh, before crossing into Kazakhstan. It then flows into Lake Zaisan and to the Russian city of Omsk, eventually joining the Ob River.
The Ili River rises in Xinjiang and also flows into Kazakhstan, terminating in Lake Balkhash. It is one of Balkhash's three main sources that provide 80 percent of the lake's water.
Balkhash is the 16th largest inland lake in the world and the second largest in Central Asia. A great source of fish, Lake Balkhash also provides water for irrigation and government infrastructure, including hydropower, supplying electricity for towns in southern Kazakhstan.
Its water level, however, has declined since the 1960s due to increased usage.
Another Aral Sea?
Eleusizov says that because of China's overuse of the two rivers, Lake Balkhash may have a fate similar to that of the Aral Sea -- which has been turned into a deadly desert and caused an ecological catastrophe.
Yet Beijing still intends to divert waters from the Ili and Irtysh.
One project is the Black Irtysh-Karamai canal in the XUAR. The 22-meter wide, 300-kilometer long canal is to carry water from the upper Irtysh River to an oil-rich region close to the Uyghur town of Urumqi.
Eleusizov says the diversion of that water will have tragic implications for the environment.
"Even if China will take only 15 percent of the water from the two rivers, there will be a new 'Aral' -- Lake Balkhash," Eleusizov said. "Then there will be more harm. There will be ecological refugees. We'll have a lifeless desert here. A great catastrophe is ahead of us. It will be worse than Aral."
Russian environmentalists share Kazakh experts' concerns.
Aleksei Yablokov is the president of the Center for Ecological Policy of Russia and also a member of the Russian Academy of Sciences. He tells RFE/RL from Moscow that China's overuse of water from the Irtysh has already affected some Russian regions.
Russia Impacted As Well
"Russian environmentalists and authorities have long been monitoring the situation around Irtysh with growing alarm," Yablokov said. "China has intensively increased use of the Black Irtysh for irrigation. Now, the amount of water flowing [into Russia] seems to be half as much as [it used to be]. It has effected not only Kazakhstan, but also Russia."
Among the negative impacts is the Ob River becoming nonnavigable in the Siberian city of Omsk.
Officials in Beijing, however, say that they consider all of the environmental implications of water projects on the Ili and the Irtysh rivers.
Earlier this year, the Chinese government announced the first-ever moratorium on fishing in the Ili River. China's Xinhua news agency reported on May 18 that 20 tons of fish were put in the Ili. The report also said that the XUAR administration has increased forest protection in order to prevent soil erosion along the two rivers.
Eleusizov and Yablokov, however, say that their concerns have fallen on deaf ears as China as well as officials in Kazakhstan and Russia have been reluctant to discuss the problem.
Murat Auezov, a former Kazakh ambassador to China, tells RFE/RL that he has little hope that officials in Beijing will change the country's water policies.
"The subject is very serious," Auezov said. "It is not the first year that we have discussed it. [It can't be solved swiftly] because such a grandiose phenomenon as China is involved."
Environmentalists also say that the international community should put pressure on Beijing. Eleusizov and Yablokov add, however, that that won't be easy as China is not a participatory to the 1992 United Nations Convention on the Protection and Use of Transboundary Watercourses and International Lakes. Kazakhstan and Russia ratified it in 2001 and 1993, respectively.
China In Central Asia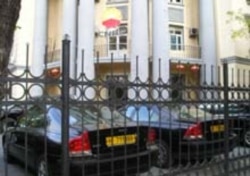 The Almaty,Kazakhstan, office of China's National Petroleum Corporation (RFE/RL)
BEIJING ON THE RISE:
The September 11, 2001, terrorist attacks against the United States prompted Washington to topple the Taliban regime in Afghanistan. At the time, many predicted the United States would gain a new foothold in Central Asia: new U.S. military bases appeared in Kyrgyzstan and Uzbekistan, U.S. foreign aid increased, and much U.S. attention was lavished on the region. Russia and China looked on warily. But the pendulum may be swinging back in Moscow's and Beijing's favor. China, especially, has expended great effort at winning friends in Central Asia and is becoming a force to be reckoned with
....(more)
RELATED ARTICLES
Turkmenistan-China Pipeline Project Has Far-Reaching Implications
Central Asia Looks To Fuel Asia's Economic Boom
The Geopolitical Game In Central Asia
ARCHIVE
To view an archive of RFE/RL's coverage of China, click here.

SUBSCRIBE
For weekly news and analysis on all five Central Asian countries by e-mail, subscribe to "RFE/RL Central Asia Report."