Tentative Signs Endangered Amur Tiger Making Comeback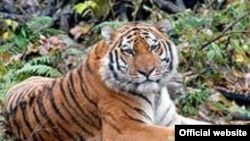 The Amur tiger (file photo) (official site) April 10, 2006 -- There are signs that the endangered Amur tigers are making a comeback in the Russian Far East, local officials say.
National park rangers recently discovered the tracks of a female Amur tiger and her two cubs in the Amur region, bordering China.
Amur tigers once roamed large areas of the Amur River, which marks the border between Russia and China. However, their pelts are prized by hunters. Only 500 remain in Russia.
(AFP)