The World Wildlife Fund's Amur program coordinator, Nikolai Yefimov, said the pollution levels now registered are safe for humans but dangerous for fish. He said it is not yet clear how nitrobenzene and benzene would affect Amur's fish and other fauna.
But local experts warned against the fishing ban, saying the ban will only prompt corruption among officials and inspectors charged with monitoring it.
The toxic slick meanwhile shifted further on, its front edge already 65 kilometers down river from Khabarovsk.
The slick has already cleared the village of Novospasskoye, some 57 kilometers up river from Khabarovsk, and is due to reach the next major town on the river, Komsomolsk-na-Amur, and its 400,000 inhabitants on 5 January and then flow into the Okhotsk Sea.
(AFP)
Chinese Chemical Spill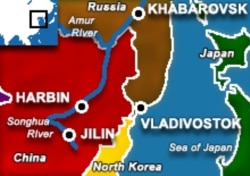 A slick of toxic benzene and other chemicals is moving from China's Songhua River toward the Amur River in Russia's Far East. Russian authorities fear the consequences when the 80-kilometer-long toxic slick reaches the city of Khabarovsk, which relies on the Amur for its water supply.
Officials say supplies of clean water and filtering charcoal are being stockpiled in Khabarovsk. Russian authorities have warned that more than 1 million people living along the Amur could be affected by the contaminants. The spill is the result of an explosion on November 13, 2005, at a Chinese chemical plant in the city of Jilin....(more)
See also:
After Chinese Toxic Spill, Russian Environmentalists Raise Concerns About Ecological Policy