Regional Governor Viktor Ishayev told citizens that neither the municipal drinking water nor heating would be affected. Ishayev said everything possible had been done to prevent the contamination of drinking water and there were no plans to cut off supplies.
Officials in Khabarovsk say so far the levels of toxic benzene registered in the waters there pose little danger for human health. Maximum toxic concentrations were expected to take up to four days from tomorrow to flow through Khabarovsk.
The city of 580,000 has readied alternative water supplies. A waterway was also dammed to divert the pollution away from a river area where Khabarovsk gets its water.
(AP)
Chinese Chemical Spill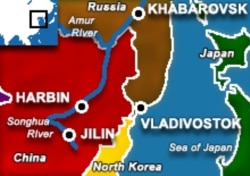 A slick of toxic benzene and other chemicals is moving from China's Songhua River toward the Amur River in Russia's Far East. Russian authorities fear the consequences when the 80-kilometer-long toxic slick reaches the city of Khabarovsk, which relies on the Amur for its water supply.
Officials say supplies of clean water and filtering charcoal are being stockpiled in Khabarovsk. Russian authorities have warned that more than 1 million people living along the Amur could be affected by the contaminants. The spill is the result of an explosion on November 13, 2005, at a Chinese chemical plant in the city of Jilin....(more)
See also:
After Chinese Toxic Spill, Russian Environmentalists Raise Concerns About Ecological Policy