Earlier today, the authorities cut off water supplies to 10,000 people, but by evening, pipes once again began to pump water.
The polluted slick, measuring 180 kilometers, is expected to take four days or more to pass through the city.
Regional environmental officials in Khabarovsk have warned the 580,000 residents of the city not to drink tap water because of the possible contamination.
Russian Emergency Situations Minister Sergei Shoigu said today in Moscow that the situation is under control.
"Safety measures have been taken. As soon as we detect that [toxic elements in the water] are above the level of maximum acceptable concentration and they threaten the lives and health of the people, we will of course put these measures into place," Shoigu said. "Right now filters are being used, laboratories are working; water samples are taken every two hours. It is our task to prevent this from becoming an emergency situation."
An expert from Greenpeace in Russia, Aleksei Kiselyov, said there are no doubts the toxicity of the water will increase.
"Right now Khabarovsk's water supply authorities promise they will filter all the water through a suspension of activated carbon particles in case a highly concentrated toxic spill comes through," Kiselyov said. "It is still not clear to me, I haven't been able to get an answer if this will be the only method of water purification or the water will continue to be chlorinated after that. If it's still chlorinated, it will result in chlor-organisms forming in the taps, which has been proved in tests, so the toxicity of the water will increase."
The effects the slick could have on people's health are hard to predict. Victor Danilov-Danilyan, director of the Academy of Russian Institute of Water Resources and Problems, told RFE/RL that he thinks a doomsday scenario is unlikely.
"Up until now, we don't know what is in the water except benzol and it causes some concern. But on the whole, benzol in large quantities affects the nervous and digestive systems, also the liver. But on the whole it is not a strong toxicant," Danilyan said.
Danilov-Danilyan also said that the Chinese side has failed to give complete information about the chemical composition of the spill.
Chinese Chemical Spill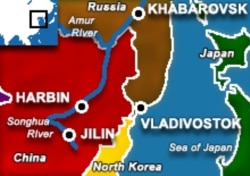 A slick of toxic benzene and other chemicals is moving from China's Songhua River toward the Amur River in Russia's Far East. Russian authorities fear the consequences when the 80-kilometer-long toxic slick reaches the city of Khabarovsk, which relies on the Amur for its water supply.
Officials say supplies of clean water and filtering charcoal are being stockpiled in Khabarovsk. Russian authorities have warned that more than 1 million people living along the Amur could be affected by the contaminants. The spill is the result of an explosion on November 13, 2005, at a Chinese chemical plant in the city of Jilin....(more)
See also:
After Chinese Toxic Spill, Russian Environmentalists Raise Concerns About Ecological Policy