Russia Braces For Toxic Spill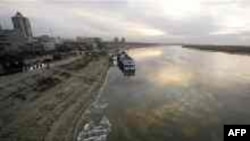 The polluted Songhua River (AFP) 28 November 2005 -- A special cargo ship carrying 20 tons of charcoal for use in purifying drinking water was on its way to the city of Khabarovsk today as a toxic spill was drifting from China towards the Amur River in Russia's Far East.
Khabarovsk, a city of some 600,000 residents, relies on the Amur for its water supply.
The toxic spill was caused by an explosion just over two weeks ago at a chemical factory in northeastern China, which resulted in some 100 tons of toxic substances being dumped into the Songhua river, a tributary of the Amur.
Russia's Emergency Situations Minister Sergei Shoigu said that the toxic spill may flow into Russian territory as early as today. Other officials have said the spill would arrive within days, but that the city of Khabarovsk would not be affected until the middle of next week.
(Rosbalt.ru/ITAR-TASS/AFP)