The Kremlin envoy to Russia's Far East, Kamil Iskhakov, today assured residents of Khabarovsk that it was safe to drink the city's water.
He said samples taken from the Amur are being tested and indicate that the water did not contain harmful levels of pollutants.
The slick of nitrobenzene and other toxins crossed into the city limits on the night of 22 December and is expected to take three or four days to flow through the city of some 580,000 people.
A 13 November explosion at a chemical factory in northeast China led to some 100 tons of the chemicals being dumped into the Songhua River, with the slick flowing down river to the Amur.
(ITAR-TASS/lenta.ru)
Chinese Chemical Spill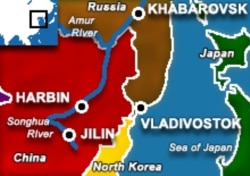 A slick of toxic benzene and other chemicals is moving from China's Songhua River toward the Amur River in Russia's Far East. Russian authorities fear the consequences when the 80-kilometer-long toxic slick reaches the city of Khabarovsk, which relies on the Amur for its water supply.
Officials say supplies of clean water and filtering charcoal are being stockpiled in Khabarovsk. Russian authorities have warned that more than 1 million people living along the Amur could be affected by the contaminants. The spill is the result of an explosion on November 13, 2005, at a Chinese chemical plant in the city of Jilin....(more)
See also:
After Chinese Toxic Spill, Russian Environmentalists Raise Concerns About Ecological Policy