Kazulin was a candidate in Belarus's March 19 presidential election.
The prosecutor had asked for a six-year sentence.
"We will now appeal this sentence to all [higher courts], and our only hope is international support and an international court, because I'm sure that in our country we will never obtain justice," Iryna Kazulina, Kazulin's wife, told RFE/RL's Belarus Service after the sentence was announced.
Earlier today, the judge ordered Kazulin and media removed from court. Kazulin's defense attorney described the proceedings as "a farce."
(with material from Reuters, dpa)
Minsk, March 25
THE AUTHORITIES GET TOUGH: RFE/RL's Belarus Service filed these images from the police action against the March 25 demonstration in Minsk. Photographs by Maks Kapran.
LISTEN
Listen to the sounds of the demonstration:
Real Audio Windows Media
Real Audio Windows Media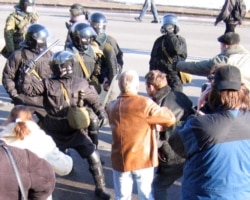 (RFE/RL)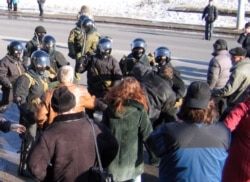 (RFE/RL)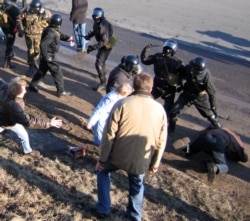 (RFE/RL)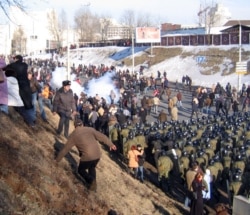 (RFE/RL)

THE COMPLETE PICTURE:
Click on the image to view a dedicated page with news, analysis, and background information about the Belarusian presidential ballot.


COVERAGE IN BELARUSIAN: Click on the image to view RFE/RL's coverage of the election campaign in Belarusian and to listen to RFE/RL's Belarusian Service.