Russian President Vladimir Putin had placed the security of energy supplies at the top of the summit agenda, and the G8 leaders today approved a statement on "Global Energy Security."
The statement acknowledges differences over the use of nuclear energy and climate change among the grouping. The statement says that record high oil prices pose a "serious" challenge for the world as global energy demand rises for limited supplies.
The document obtained last week by Reuters says that "G8 members pursue different ways to achieve energy security and the goals of climate protection." It also highlights the split over the 1997 Kyoto Protocol on climate change, saying that "those of us committed to making the Kyoto Protocol a success underline the importance we attach to it."
Today, French President Jacques Chirac said it was impossible to talk seriously about "energy security while there is no progress on climate change." Chirac said that "mankind is dancing on the volcano."
Also, the statement backs plans suggested by Moscow to create international centers in Russia to produce nuclear fuel for countries with atomic power plants and a U.S. plan to create a multilateral nuclear fuel bank. These facilities would be under UN supervision.
Leaders from the G8 countries -- Japan, Russia, Britain, Germany, Canada, Italy, France, and the United States -- are also discussing divisions over the Middle East during their working sessions.
The leaders are reported to be working on a joint statement calling for conditions to be met for a cease-fire in Lebanon, where Israel has launched a fifth day of air and sea strikes amid continued rocket strikes by Hizballah guerrillas.
The United States had been alone in emphasizing Israel's right to self-defense. But Bush today appeared to soften that stance, urging Israel to show restraint.
On July 15, Putin and U.S. President George W. Bush announced plans to negotiate a landmark atomic cooperation deal and redouble efforts to combat nuclear terrorism.
"We have managed to reach several agreements on the problems of the most importance in international and mutual agenda," Putin said after the talks. "We have approved a mutual declaration based on our parallel initiatives to secure development of atomic energy."
However, Russia and United States failed to reach a bilateral deal allowing Russia to join the World Trade Organization. Russian Economic Development and Trade Minister German Gref said that agriculture was the main remaining obstacle.
(compiled from agency reports)
Russia And Global Energy Security
Russia And Global Energy Security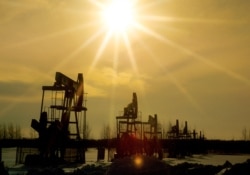 An oil field in Russia's Republic of Bashkortostan (TASS file photo)


ENERGY SECURITY is increasingly moving to the top of the EU's agenda in its dealings the outside world. A recent report identifies the European Union's main energy objectives as not just securing gas and oil deliveries from Russia, but also ensuring that it has reliable alternative sources, including in Central Asia. Nonetheless, EU officials say relations with Russia take center-stage in their thinking....(more)
RELATED ARTICLES
EU Maintains Codependent Energy Relationship With Russia
Turkmenistan: The Achilles' Heel Of European Energy Security
U.S. Official Urges Reforms In Energy-Producing Countries
ARCHIVE
A
complete archive
of RFE/RL's coverage of energy issues in the Caspian Sea region and Russia.