Former Bosnian Serb Minister Charged With War Crimes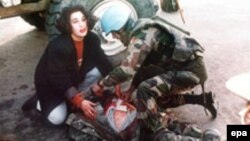 A French UN soldier and a woman give first aid to a Bosnian soldier shot in Sarajevo's 'Sniper Avenue' in 1994 (epa) July 17, 2006 -- Bosnia's war crimes court today added war crimes to the charges against a former Bosnian Serb minister on trial for allegedly embezzling money to fund war crimes fugitives.
Momcilo Mandic was the deputy minister for interior affairs and justice minister in the wartime government.
The court says Mandic was involved in the attack on Sarajevo that marked the start of the 1992-95 Bosnia war.
(AFP, AP)