Witnesses and Iraqi officials say the bomber invited laborers into a minivan with the promise of jobs and then detonated the bomb. Over 100 people were wounded in the attack, which sparked clashes between police and protesters.
The blast occurred across the street from a Shi'ite shrine, the Al-Kufah mosque.
Al-Kufah is a Shi'ite religious center, 160 kilometers south of Baghdad.
Meanwhile, in the southern city of Al-Basrah, at least five Iraqis were killed in clashes with British troops, who are currently cracking down on Shi'ite militias in the city.
Also today, a roadside bomb in the northern town of Hawijah killed at least five policemen and injured several people, including civilians.
(Reuters, AP, AFP, dpa)
Sectarian Iraq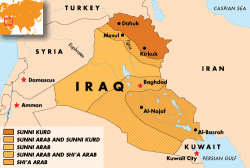 Click to enlarge the image.
SUNNI, SHI'A: Iraq is riven along sectarian lines, faults that frequently produce violent clashes and are a constant source of tension. Sectarian concerns drive much of Iraqi politics and are the main threat to the country's fragile security environment.


THE COMPLETE PICTURE: Click on the image to view RFE/RL's complete coverage of events in Iraq and that country's ongoing transition.