Iraq: Israel-Lebanon Conflict Seen Through Domestic Lens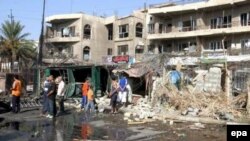 Many Iraqis are more concerned about surviving violence at home than about what the crisis in Lebanon may mean for them (epa) PRAGUE, July 19, 2006 (RFE/RL) -- While Iraqis have expressed concern over events in Lebanon, much of their focus this week remained on the deteriorating security situation at home. According to a UN report released on July 18, some 6,000 Iraqis were killed in May and June, the majority in violent attacks in Baghdad and central regions of the country.
Residents in the capital have said that even the oppressive heat, with temperatures hovering around 47 degrees Celsius, with one hour of electricity on and five off, is not their main concern. Their concern is avoiding being caught up in the escalating sectarian conflict.

Baghdad residents told RFE/RL's Radio Free Iraq on July 18 that they do worry about the Israel-Lebanon conflict spreading across the region. A number of people compared the decision by Hizballah leader Hasan Nasrallah to Saddam Hussein's dragging Iraq into conflicts with neighboring Iran and Kuwait. Lebanon is now paying for the actions of one man, who pursued his own goals without taking consideration for the country's people or government, they said.
One interviewee blamed the "Arab mentality" for the escalation, saying Arabs like to make heroes for themselves, while their dictator leads them like sheep.

Another man, who described himself as a Hizballah sympathizer, said that although he admires the movement for fighting Israel, it has taken on a battle it can't win. The conflict with Israel will destroy the Lebanese people as Saddam Hussein destroyed Iraq, he predicted.

Iraqi Officials Condemn Israel, Comment Little On Neighbors

Several leading Iraqi officials have condemned what they termed Israeli aggression against Lebanon. Prime Minister Nuri al-Maliki denounced the Israeli air strikes on July 15. The same day, Iraq's parliament unanimously condemned the Israeli offensive. Vice President Adil Abd al-Mahdi condemned the Israeli operations on July 16, calling them "unacceptable and despicable."

President Jalal Talabani told reporters in Al-Sulaymaniyah on July 18 that "flagrant aggressions" are being carried out against the Lebanese people. "We support the Lebanese people led by their government and we condemn this aggression," Talabani said. "This war is indeed a filthy war."

Talabani declined to comment on possible Iranian and Syrian involvement in the current crisis. "I [will] keep all my observations about both neighbors in my heart," he told journalists. "God willing, in my meeting with them I will discuss" the issue.

Foreign Minister Hoshyar Zebari told London-based "Al-Sharq al-Awsat" in an interview published on July 19 that Arab foreign ministers meeting in Cairo on June 15 agreed that the current escalation "is the prelude for more dangers and confrontations in the regional situation and the nuclear dossier."

Asked to elaborate, Zebari said: "There is Israeli provocation and if [we] put things in perspective it becomes obvious that the Palestinian-Israeli crisis happened just as the Palestinian Authority and the Hamas government were on the verge of agreement. It is same with the Hizballah operation. It came before the G8 [Group of Eight leading industrialized countries] meeting and its discussion of the Iranian nuclear dossier. There are therefore new alliances in the region and the problem is that the Arab countries have stopped having control of the region's fateful issues."

Shi'a, Sunnis Weigh In

Shi'ite Grand Ayatollah Ali al-Sistani called the Israeli military offensive against Hizballah a "flagrant aggression," and called for international intervention to end the conflict in a statement posted to his website on July 17. "This outrageous oppression is taking place under the watch of the entire world, which is turning a blind eye," the statement said.

Al-Sistani also called on foreign states to secure humanitarian aid for the wounded and displaced. "The representatives of the religious authority in Lebanon and believers in general should do their utmost in this regard," the statement said.

In an apparent comment on U.S. policy, he added: "The grievances of the peoples in the region, including the Lebanese people, would increase the peoples' feeling of resentment and anger at the international policies that approve of what is taking place or turn a blind eye to it. This will consequently step up tension and violence and impede the achievement of security and peace in the entire region."

Sunni insurgent groups active in Iraq also voiced support for Palestinians and Lebanese through statements posted to the Internet. The Islamic Resistance Movement in Iraq -- 1920 Revolution Brigades praised the "Lebanese resistance" in a July 13 statement for "standing up against Zionist occupation." The group pledged its support to the Palestinian and Lebanese people, and called on "all the jihad groups in Iraq to intensify their jihad operation, strengthen and toughen it, in spite of the American and British occupation, in support of our brothers in Palestine and Lebanon."

The Iraqi Ba'ath Party called on the Arab masses and "all influential powers to unite in the combat arena and take a fundamental stand alongside the Lebanese people" in a July 16 Internet statement. The statement said Iraq and Palestine were the first fronts in the campaign by "the Zionist entity" to stop any attempt at an Arab reemergence project.

Too Much To Do At Home

There is little doubt that Iraqis fear the eruption of a broader regional conflict, but many see the current devastation at home as taking precedence over regional affairs. Some Iraqis subscribe to the rationale that a broader regional conflict could actually benefit Iraq, since it would likely prompt foreign fighters to relocate to neighboring states, thereby alleviating some of the conflict at home.

Of course, this is a simplistic view, as any escalation in regional tensions would have devastating consequences for Iraq. Regional instability would disrupt supply lines for trade, further inhibiting the import of much needed food, medicine, and goods, as well as the export of oil, the country's only significant source of revenue.

The geographical location of Iraq, wedged between Iran and Syria, would make it vulnerable to any fighting between those two states and Israel. In addition, it is possible that Iran and Syria, whose interference has been one of the leading causes of instability in Iraq over the past three years, would take advantage of that geographical proximity to use Iraq as a conduit for the movement of fighters and weapons.

Turkish Threats

Moreover, there is a possibility that neighboring states would take further advantage of any regional conflict to achieve their goals inside Iraq. Turkey, for one, has renewed its threat of invasion in recent days, saying it will take action against Kurdistan Workers Party (PKK) fighters hiding in Iraqi Kurdistan.

Turkish Justice Minister Cemil Cicek said his country will launch an incursion into Iraq unless the Iraqi government and the United States take concrete steps to wipe out the PKK, the Anatolia news agency reported on July 17. Cicek said the parties involved must understand Turkey's resolve in destroying the PKK, which it considers a terrorist group, adding that Turkey "will take appropriate steps decisively and with firmness" to achieve that goal.

"We expect support, sincerity, and cooperation from all governments that acknowledge that the PKK is a terrorist organization," he noted, referring to the United States and Iraq.