PRAGUE, July 19, 2006 (RFE/RL) -- Twelve Uzbeks -- including at least three men -- have returned and have been reunited with their families, a neighbor of some of the returnees told RFE/RL from Andijon.
The 12 Uzbeks were among hundreds of people who fled in fear and panic from Andijon on May 13, 2005, after Uzbek government troops opened fire on protesters in the town's central square.
"People had to flee the country after the Andijon massacre. And now they ask for a pardon and return home? It's incomprehensible."
A Long Journey Ends
They first sought refuge in neighboring Kyrgyzstan and, with the assistance of the UN refugee agency (UNHCR), 439 of them were flown to Romania and subsequently given political asylum in the United States and various European countries.
Uzbek authorities wanted them returned, saying that some of them had committed terrorist acts in Uzbekistan. Human rights groups said the refugees were likely to face prosecution and possibly torture if they returned home.
Andre Mahecic of the UNHCR says the 12 Uzbeks did not inform the UN about their decision to return home.
"We have seen media reports -- in fact, there is no mechanism that would force these people to contact UNHCR or anybody," he said. "It is an inalienable right of people to return. However if they were in touch with us, we would certainly provide them advice and counsel them as much as possible on the situation and possible pitfalls along the way."
'Guaranteed' Safety
The Uzbek Embassy in Washington assisted the Uzbeks in returning home. Russia's Regnum news agency quoted an unnamed source at the Uzbek Foreign Ministry as saying on July 17 that Uzbek authorities considered the refugees' request to return home and concluded that those people were not involved in "terrorist attacks in Andijon." The statement said: "It was proved that they were deceived and taken outside the country."
One of the refugees resettled in the United States told RFE/RL's Uzbek Service that the Uzbek national security service gave the 12 Uzbeks a guarantee that they would be safe.
Allison Gill, a former head of Human Rights Watch's (HRW) Tashkent office, is skeptical about that guarantee. She recalls the cases of several Uzbeks accused of masterminding the 1999 bombings in Tashkent. They returned home after Uzbek authorities "guaranteed" their safety but were subsequently tried and sentenced to prison terms.
"I am a little skeptical about promises by the Uzbek government to pardon people who fled Uzbekistan after the Andijon events," Gill said. "I fear this may be a trap.... I understand that leaving a home country is a horrible experience. Living in a foreign country is very hard. Of course they want to go home. I can understand that. But I have difficulties to comprehend how one can trust this government."
However, some of the other refugees seem intent on following these 12 refugees.
On June 27, a group of Uzbek refugees in Germany wrote an open letter to Uzbek President Islam Karimov saying they want to return home. A man who introduced himself as Nasrullo is one of them.
"God willing, I have the same intention," he said. "If I will be told: 'Come without fear, nothing [bad] will happen to you,' I will believe it and return. I will get my old job, God willing. I want to be in my own country, among my own people. I believe I should be there [living with] my people."
The return to Uzbekistan by the refugees has surprised many of their compatriots. This man from Andijon had this to say: "I can't understand them. There was a massacre in Andijon. The suffering and hardship of the Uzbek people, the prosecution of opposition members and human rights activists [continues]. People had to flee the country after the Andijon massacre. And now they ask for a pardon and return home? It's incomprehensible."
Gill and Mahecic say the refugees' return to Uzbekistan does not affect the international community's assessment of the Andijon tragedy. Western countries severely condemned the Uzbek government's method of quelling the protest in Andijon.
Uzbek authorities have said 187 people, mostly troops and "foreign-paid terrorists," died in the uprising. Eyewitness accounts and independent estimates say the death toll may be as high as 800, and that it included many women and children.
Refugees Remain In Neighboring Countries
Meanwhile, the UNHCR is assisting dozens of Uzbek refugees in Kyrgyzstan and Kazakhstan who fled religious and political persecution in Uzbekistan.
Four Andijon refugees remain in detention in Kyrgyzstan despite being granted UN refugee status. Uzbek authorities continue to demand their extradition.
Five others -- four from Andijon and one from the nearby city of Kokand (Qoqon) -- were detained today in southern Kyrgyzstan, ferghana.ru reported quoting Osh city police official Zamir Sidykov.
Several others who fled to Kyrgyzstan and Kazakhstan face pressure from the Uzbek side to return home. Some have reportedly been abducted by the Uzbek security service and forcefully brought home.
Isroil Kholdarov, a human rights and political activist from Andijon who has been seeking asylum in Kyrgyzstan, has been missing since last week.
In Kazakhstan, Gabdurafih Temirboev, an Uzbek with UN refugee status, has been in detention since June 24.
On July 17, the HRW urged the European Union to stress the need for Uzbek refugees to be protected in neighboring countries. The organization said Uzbek refugees face "a very real risk of persecution and torture in Uzbekistan."
(RFE/RL's Uzbek Service contributed to this report.)
Andijon Refugees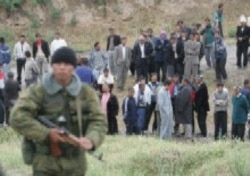 Uzbek refugees in Kyrgyzstan on May 19, 2005 (epa)


NO PLACE TO GO: More than 400 Uzbeks who fled in panic in the hours and days after troops opened fire on demonstrators in Andijon one year ago have been granted political asylum outside Central Asia. In limbo for weeks in Kyrgyzstan as they and the world tried to come to grips with the bloody events of May 12 and 13, they feared for their lives and the lives of family members as the official crackdown continued.... (more)
RELATED ARTICLES
Andijon Refugees In Romania Have Escaped Violence, But Not Heartache
Refugees In Romania Await Decision On Destination
Refugees Want To Return Only If Regime Changes


THE COMPLETE STORY: A dedicated webpage bringing together all of RFE/RL's coverage of the events in Andijon, Uzbekistan, in May 2005 and their continuing repercussions.
CHRONOLOGY
For an annotated timeline of the Andijon events and their repercussions, click here.