Kosovo Talks Show Little Sign Of Progress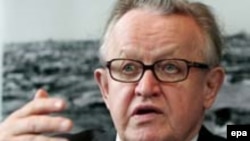 Martti Ahtisaari, the UN envoy charged with mediating talks between the Serbs and the Kosovar Albanians (file photo) (epa) July 19, 2006 -- Negotiators reportedly made little progress in an eighth round of UN-mediated talks on the future of Kosovo in Vienna today.
Discussions during the day focused on the number of new Serb municipalities in Kosovo to be created in order to provide the province's Serbian minority greater rights.
Talks on July 18 focused on the question of protective zones around Serbian Orthodox religious sites.
Serbian President Boris Tadic is to meet with ethnic Albanian leaders from Kosovo in Vienna on July 24 to discuss Kosovo's future status.
That will be the highest-level meeting between Belgrade and Prishtina since a 1999 NATO air campaign drove Serbian forces out of the Serbian province.
(AP, Reuters)