Former Serbian President On Trial For War Crimes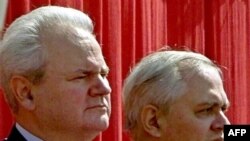 Former Serbian President Milan Milutinovic (right) with Yugoslav President Slobodan Milosevic on the campaign trail in 2000 (AFP) July 10, 2006 -- The war crimes trial of six former high-level Serbian politicians and generals has begun at the international criminal tribunal in The Hague.
The defendants include a former Serbian president, Milan Milutinovic.
They are accused of joining former Yugoslav President Slobodan Milosevic in a "joint criminal enterprise" in 1998 and 1999 that included hundreds of murders and the forced expulsion of some 800,000 ethnic Albanian civilians from Kosovo.
The Serb crackdown led to the 1999 NATO air campaign that forced Serbian troops to withdraw from Kosovo.
The six have pleaded not guilty to the charges.
Milosevic died last March, bringing an inconclusive end to his trial for alleged war crimes.
(compiled from agency reports)


SUBSCRIBE
For a regular review of politics, media, and RFE/RL broadcasts in the western Balkans,
subscribe to "RFE/RL Balkan Report."