Diplomats said more talks are expected later today in New York following inconclusive closed-door talks on July 19.
Russian UN Ambassador Vitaly Churkin said Moscow remains hopeful Iran could accept an international offer of incentives in exchange for abandoning uranium enrichment, making Security Council action unnecessary.
The Iranian case was referred back to the Security Council last week after Iran failed to respond to the incentives offer from the Security Council's five permanent members -- the United States, Russia, China, France, and Britain -- plus Germany.
(compiled from agency reports)
Security Guarantees For Iran?
Security Guarantees For Iran?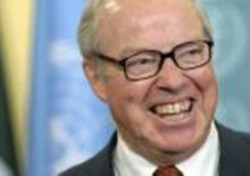 Hans Blix (CTK)

SECURITY GUARANTEES On January 26, RFE/RL Radio Farda correspondent Fatemeh Aman spoke with former UN chief weapons inspector HANS BLIX about the confrontation between Iran and the international community over Tehran's nuclear ambitions. Blix urged the United States to participate in direct negotiations with Tehran and to offer Iran security guarantees that are similar to those being discussed with North Korea...(more)
LISTEN
Listen to the complete interview (about five minutes):

Real Audio
Windows Media

THE COMPLETE STORY: RFE/RL's complete coverage of controversy surrounding Iran's nuclear program.