U.S.-Led Naval Exercise In Black Sea Cancelled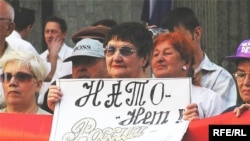 The arrival of Western ships in the Ukrainian port of Simferopol earlier in the summer prompted anti-American and anti-NATO protests (RFE/RL) July 20, 2006 -- The United States has cancelled an annual U.S.-led summer naval exercise, called Sea Breeze, in the Black Sea due to the situation in the Middle East.
The U.S. announcement came only hours before the exercise was due to begin.
Ukraine's Ministry Defense said today that a U.S. minesweeper had received orders to set course for Lebanon, rendering the exercises irrelevant.
(dpa, Ukrainian TV 5)