Georgia's presidential administration did not give reasons for the decision.
However, Reuters quotes George Arveladze, the head of Saakashvili's administration, as saying Russian President Vladimir Putin had refused to meet Saakashvili on the sidelines of the two-day summit.
The two leaders had been expected to discuss tense relations between the two countries.
Relations between Georgia and Russia took another turn for the worse earlier this week when the Georgian parliament called for the withdrawal of Russian peacekeepers from Georgia's breakaway regions of Abkhazia and South Ossetia.
A number of other leaders will not be traveling to Moscow. Ukraine's President Viktor Yushchenko is remaining in Kyiv owing to the political situation in Ukraine, while Armenian President Robert Kocharian canceled his trip because of illness.
Turkmenistan President Saparmurat Niyazov traditionally skips CIS events.
Kazakh President Nursultan Nazarbaev, the current president of the Commonwealth of Independent States (CIS), admitted the grouping is "living through a difficult time." He is proposing to celebrate the CIS's 15th anniversary in Kazakhstan in December to "cheer up and make the CIS more attractive to its members."
CIS leaders are expected at the current two-day meeting to discuss reforming the grouping of 12 former Soviet republics.
Earlier today, Russian media reports said authorities in South Ossetia had detained a man who admitted preparing terrorist acts at the instruction of Georgian secret services.
Russian television showed video from the unidentified man's alleged confession.
(Novosti-Gruziya, ITAR-TASS)
Universal Principles?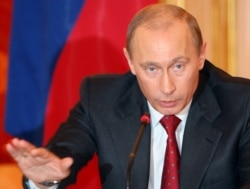 President Putin at a Kremlin meeting in April (epa)
PUTIN SPEAKS OUT: During a January press conference, Russian President Vladimir Putin said there is a need for "universal principles" to settle "frozen" conflicts in the CIS. His comments came against the background of impending talks on the future status of Kosovo, which many predict will grant it a form of "conditional independence" from Serbia and Montenegro. As an ally of Serbia, Moscow has consistently opposed the idea of Kosovar independence. Putin's remarks suggest he may be shifting his position, but only if the principles applied to Kosovo are also applied to frozen conflicts in the former Soviet Union. If Kosovo can be granted full independence, he asked, why should we deny the same to Abkhazia and South Ossetia? (more)
RELATED ARTICLES
Putin Calls For 'Universal Principles' To Settle Frozen Conflicts
Russia Key To OSCE's Attempts To Resolve Frozen Conflicts
Georgia Pushes For EU Backing In Standoffs With Russia
ARCHIVE
Click here to view archives of RFE/RL's coverage of the conflicts in Abkhazia, Chechnya, Kosovo, Nagorno-Karabakh, Ossetia, and Transdniester.