Daytime Curfew Extended In Baghdad After Bloody Week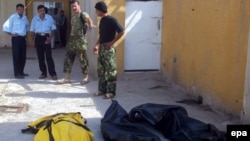 The bodies of three of the five civilians killed in Ba'qubah lie in the grounds of a hospital morgue (epa) July 21, 2006 -- The hours of a Friday daytime curfew have been extended in Baghdad after one of bloodiest weeks that Iraq has suffered this year.
Bomb and armed attacks in Iraq have killed over 120 people this week.
The U.S. military says attacks in Baghdad over the past five days are up about 40 percent on the daily average over recent weeks.
The Iraqi government said on July 20 that there has been a "dangerous" rise in the number of people fleeing their homes as sectarian violence rises.
Among the casualties today were at least three civilians, two of them women and the third a child. They were killed during a U.S. military raid in Ba'qubah, a city northeast of Baghdad. A U.S. military statement said the troops had been looking for "terrorists" associated with Al-Qaeda in Iraq.
It says a further 23 people, including several more women and children, were injured.
Elsewhere, the Iraqi Army says 18 people were killed in fighting after gunmen attacked two Shi'ite neighborhoods in the town of Al-Mahmudiyah, south of Baghdad. The 18 dead included four Iraqi soldiers, three police, and 11 insurgents.
(Reuters, AFP)


SUBSCRIBE For weekly news and analysis on Iraq by e-mail,
subscribe to "RFE/RL Iraq Report."