Iran Says Pipeline Deal With India In Trouble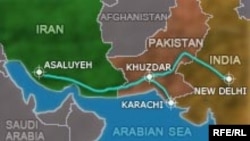 (RFE/RL) July 23, 2006 -- Iran's Foreign Minister Manuchehr Mottaki said today that the possibility of extending a gas pipeline between Iran and Pakistan to India has run into trouble.
Mottaki was not specific, but media reports say that the problem is the price of gas, with Iran wanting almost twice as much as India is prepared to pay.
The proposed pipeline is scheduled to come into operation in 2011.
(AP)