Iraqi Shi'a Call On Premier To Cancel U.S. Visit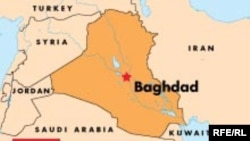 (RFE/RL) July 24, 2006 -- Followers of the influential Iraqi Shi'ite cleric Muqtada al-Sadr today urged Prime Minister Nuri al-Maliki to call off his visit this week to the United States.
Falah Hassan Chanchal, the leader of the parliamentary al-Sadr bloc, said al-Maliki's meeting with U.S. President George W. Bush will damage public confidence in the government at a time when security is at an all-time low.
The movement also urged al-Maliki not to sign any agreements to extend the presence of U.S. troops in Iraq.
(AP, AFP)

SUBSCRIBE For weekly news and analysis on Iraq by e-mail,
subscribe to "RFE/RL Iraq Report."