EU, UN Working On 'Concept' For Lebanon Force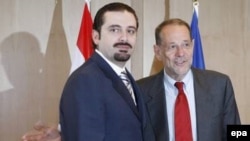 Solana (right) with Saad Hariri in Brussels today (epa) BRUSSELS, July 24, 2006 (RFE/RL) -- Javier Solana, the EU high representative for common foreign and security  policy, said today that the European Union is working together with the United Nations on the "concept" of a peacekeeping force for Lebanon.
After meeting the majority leader of the Lebanese parliament, Saad Hariri, Solana said a number of EU countries are expected to contribute to the force.
Solana said it was too early to speak of details relating to the mandate of the force or where it would be deployed. Hariri said the force must be part of a "global" package of measures guaranteeing that Lebanon will not become a "playground" for other countries.