On July 23, Israel for the first time said it conditionally backed the idea.
The UN has already had 2,000 peacekeepers in Lebanon for more than a quarter century. Yet the United Nations Interim Force in Lebanon (UNIFIL) has hardly kept the peace.
Outdated Mandate
UNIFIL spokesman Milos Struga tells RFE/RL that that's understandable, given the nature of the multinational force's 1978 mandate from the UN Security Council.
"UNIFIL does not have any enforcement power, and never had, ever since the first Israeli invasion of Lebanon in '78," Struga says. "We did not have the power to enforce something on the parties. These powers were never given by the Security Council. Second, our mandate is mainly of an observer mission at the moment, to observe and report what is happening. So that is precisely what we are doing."
But that's not what's needed now, as the conflict rages on, so far claiming more than 400 mostly civilian lives.
Last week at the Group of Eight (G8) summit in St. Petersburg, UN Secretary-General Annan and British Prime Minister Blair floated the idea of creating a larger, stronger multinational peacekeeping force for southern Lebanon.
Pushing Back Hizballah
The idea is that such a force could patrol a buffer zone between the two countries inside southern Lebanon, from which Hizballah militia would be removed and thus prevented from firing rockets into Israel.
"We are going to discuss with the international community the best way to support the Lebanese government," said Israeli Foreign Minister Tzipi Livni. "We believe that the responsibility [for southern Lebanon] is on the Lebanese government, but we can support some ideas of effective forces that will help the Lebanese government in full implementation of the statements and the [UN] resolution in order to dismantle Hizballah, to take them out of the southern part of Lebanon and prevent rearming of Hizballah in the future."
Israeli Defense Minister Amir Peretz, also speaking on July 23, suggested that a new force could be led by NATO or by troops from European Union nations.
Neil Quillian, a London-based expert on the region, says Israel appears to believe it can lay the groundwork for the deployment of a new international force by continuing to degrade Hizballah's capabilities in southern Lebanon over the 10 days.
"We're likely to see Hizballah downgraded sufficiently that the Israelis would feel comfortable primarily with a European-led peacekeeping force that had a mandate, one, to police the border; two, to continue disarming Hizballah; and, three, to work with the Lebanese government and help it extend its sovereignty right down to the southern reaches of the country."
NATO Overreaching?
But Israeli Defense Minister Peretz also said on July 23 he doubted that NATO could find the necessary consensus among its members to carry out such a delicate mission.
And the alliance might already be overburdened.
In Afghanistan, NATO is due to take over the security of southern Afghanistan by the end of July with troop numbers increased to 16,000 from 9,700. That comes as Taliban-led fighters are increasingly active in the area. This is one of the biggest and most dangerous missions the alliance has ever undertaken.
Quillian tells RFE/RL that while the Security Council would likely be able to reach a consensus on a new peacekeeping force for southern Lebanon, it's unclear who could lead it or contribute troops:
Europe's leading powers are currently involved in delicate nuclear talks with Iran, which is a key backer of the Shi'ite Hizballah movement.
"Britain, France, and Germany -- if they were included in such a team, that would complicate matters with Iran," he says. "It would have to be thought through very, very carefully because those three countries do have better relations with Iran than other European countries. It would take considerable time and diplomacy to actually arrive at a team that would be able to carry out its duties properly."
One thing such a force would not be able to do is drive any remaining Hizballah forces from southern Lebanon. Which is why, in Quillian's view, the United States has so far refused to back calls for an immediate cease-fire.
Focus On 'Root Causes'
U.S. Secretary of State Condoleezza Rice, who made a surprise stop in Lebanon today on her way to Israel, has said that Washington wants a cease-fire but only if the root causes of the conflict have been addressed.
Quillian says that means allowing Israel time to continue to weaken Hizballah and evacuate southern Lebanon.
"The position would be that the ground had been sufficiently cleared for the peacekeeping force to actually go in," Quillian says. "However, as a long-term strategy, Hizballah is likely to rearm and reequip itself and present a challenge, perhaps in the next three or four years, so that it would in itself constitute a longer-term problem. Hence, we might see the Syrians brought into the negotiating process to rein in Hizballah and make them a part of the emerging political system."
Rice is due to take part in crisis talks on the conflict in Rome on July 26.
Italian government sources say Israel could also attend the high-level gathering, where Rice will be joined by representatives from Britain, Egypt, France, Germany, Jordan, Russia, Saudi Arabia, and Spain, as well as the United Nations and the World Bank.
UN Peacekeepers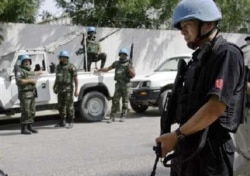 UN peacekeepers in Haiti in February 2006 (AFP)
MISSION
In cases in which international intervention in regional conflicts is deemed necessary, peacekeeping missions authorized by the UN Security Council provide legitimacy by demonstrating the commitment of the international community to address such crises.
MANDATE
UN peacekeeping missions are prepared, managed, and directed by the UN's Department of Peacekeeping Operations. The unique mandates of peacekeeping missions falls under the authority of the UN's Security Council and General Assembly, and under the command of the UN secretary-general.
MONEY
Funding for UN peacekeeping missions is provided by UN member states. All are legally obliged to pay a share under an established formula. The leading financial providers as of 2006 were: the United States, Japan, Germany, the United Kingdom, France, Italy, Canada, Spain, China, and the Netherlands.
MORE
All UN peacekeeping missions share the goals of alleviating human suffering and creating conditions for self-sustaining peace. Missions can consist of armed or unarmed military components, depending on their mandate, and various civilian tasks.
Military operations can include:
· Deploying to prevent the outbreak of conflict or the spillover of conflict across borders;
· Stabilizing conflict situations after a cease-fire in order to create an environment for the parties to reach a lasting peace agreement;
· Assisting in implementing comprehensive peace agreements;
· Leading states or territories through a transition to stable government, based on democratic principles, good governance, and economic development.
HISTORY
There have been 60 peacekeeping operations since 1948. Fifteen peacekeeping missions were in operation in mid-2006, employing more than 60,000 troops, 7,000 police, and over 2,500 military observers. Peacekeeping operations in 2006 were supported by uniformed personnel provided by 109 countries.
(source: UN Department of Peacekeeping Operations)
RELATED ARTICLES
Middle East: UN Mulls New International Force For Lebanon
Georgia: Issue Of Russian Peacekeepers Heats Up
UN: U.S. Presses For Peacekeeper Deployment To Darfur