Instead, the participants pledged to work with "utmost urgency" for a truce, as U.S. Secretary of State Condoleezza Rice told a news conference in Rome.
"We all committed to dedicated and urgent action to try and bring about an end to this violence that indeed would be sustainable, that would leave the Lebanese government with the prospect of full control of its country," she said. "This is very important. We cannot -- and I've heard it many, many times during this conference -- we cannot return to the status quo ante."
"We cannot -- and I've heard it many, many times during this conference -- we cannot return to the status quo ante." -- Rice

In a statement read out by the conference host, Italian Foreign Minister Massimo D'Alema, the participants also pledged to work to provide humanitarian relief to Lebanon and urged Israel to show "utmost restraint" as it continues to carry out its military offensive.
Lebanese Disappointment
Prior to the talks, European and Arab leaders as well as UN Secretary-General Kofi Annan had been expected to push for a call for an immediate cease-fire.
D'Alema acknowledged many participants had done just that, saying himself that a truce should have been reached "yesterday."
Lebanese Prime Minister Fouad Siniora, standing next to Rice at the news conference, did not mask his disappointment. He said that "an immediate cease-fire" had been "discussed quite amply," and that some progress was made, "in terms of really handling all the issues, but that [a cease-fire] was our expectation."
Significantly, Siniora had praise for Hizballah, whose capture and killing of Israeli troops two weeks ago sparked Israel's offensive.
The Lebanese prime minister said Hizballah had been key in ending Israel's occupation of southern Lebanon and that it is a legitimate part of the Lebanese government. He also called on Israel to withdraw from the Shebaa Farms area, which he said is Lebanese territory, and for Israel to free what he called Lebanese political prisoners.
Wider International Involvement
Annan noted that any solution would require the input of countries in the region which, however, were not invited to take part in the Rome talks. "It is important that we work with the countries of the region to find a solution, and that should also include Iran and Syria," he said.
Among agreed points, Rice said all sides concurred on the need to set up "an international force under a UN mandate that will have a strong and robust capability to help bring about peace, to help provide the ability for humanitarian efforts to go forward and to bring an end to the violence."
However, the timing of deployment and composition of such a force remains unclear.
Besides Rice, the foreign ministers of 14 European and Arab nations took part in the talks, along with Annan and envoys from the World Bank and European Union. An envoy from the Vatican sat in on the discussions as an observer.
Iran, Syria, And Hizballah
Iran, Syria, And Hizballah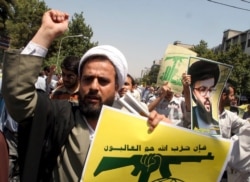 Iranians demonstrating in support of Hizballah in Tehran on July 17 (epa)

'FOR THE SAKE OF LEBANON': The Islamic Republic of Iran has served as an ideological inspiration for Hizballah since the Lebanese militant group's creation in 1982, and Tehran acknowledges that it supports the organization morally and politically. "Yes, we are friends of Syria and Iran" Hizballah leader Hassan Nasrallah has said. "For 24 years we benefited from our friendship with Syria and Iran for the sake of Lebanon...." (more)
RELATED ARTICLES
Tehran Playing Key Role In Israel-Lebanon Crisis
Iran, Hizballah Brush Off U.S. Terrorism Label
Intifada Conference In Tehran Has Multiple Objectives
UN Resolution Rankles Syria, Hizballah, Iran
ARCHIVE
RFE/RL
coverage of Iran
. RFE/RL web special on
Iran's nuclear program
.
SUBSCRIBE
For weekly news and analysis on Iran by e-mail,
subscribe to "RFE/RL Iran Report."