Israeli Offensive Continues For 17th Day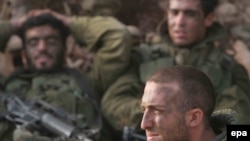 Israeli soldiers rest after a battle on the Lebanese border on July 27 (epa) July 28, 2006 -- Israeli planes have bombarded targets in southern Lebanon for a 17th day, while more Hizballah rockets have hit northern Israel.
At least five people were reported killed in the Israeli strikes, some of which targeted suspected Hizballah hideouts in hill villages.
The new attacks came as U.S. State Department spokesman Adam Ereli described as "outrageous" a suggestion by Israel that it had permission to continue its offensive in Lebanon.
That suggestion -- by Israeli Justice Minister Haim Ramon -- came after a meeting of world powers failed to agree on July 26 on a call for an immediate cease-fire.
U.S. President George W. Bush on July 27 urged the world to confront the "danger" posed by Hizballah and Iran, which the United States maintains is providing military support to Hizballah.
Iran on July 28 said that Tehran's support to the Lebanon-base armed Shi'ite militia has been only "humanitarian, political and diplomatic," once again denying a military dimension to the relationship.
Also today, the United Nations said it was removing its unarmed observers from posts along the Israeli-Lebanese border.
A spokesman said the observers would be moved in with UN peacekeepers in the area, who have light weapons for self-defense.
Four UN observers were killed when their post came under Israeli fire on July 25.
(AP, AFP)