Hamid Reza Asefi told reporters that if any resolution is issued against Iran tomorrow, the package would be left off the agenda by Iran.
Asefi's comments came in response to a draft UN resolution giving Tehran until August 31 to suspend uranium enrichment or face the threat of international sanctions.
(Reuter, AP, AFP)
What The Street Thinks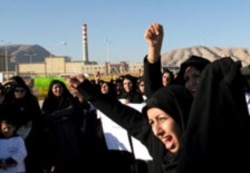 A demonstration in support of Iran's nuclear program outside the Isfahan uranium-conversion facility in Isfahan in January (epa)

IRANIANS SPEAK OUT ON THE DISPUTE: To find out more about what Iranians think about the international controversy over their country's nuclear program, RADIO FARDA asked listeners to express their views....(more)
See also:
Iran: Public Has Mixed Feelings On Nuclear Issue

THE COMPLETE PICTURE: RFE/RL's complete coverage of controversy surrounding Iran's nuclear program.
CHRONOLOGY
An annotated timeline of Iran's nuclear program.