Resolution 1696 expresses "serious concern" at Iran's refusal to cooperate with the International Atomic Energy Agency (IAEA). It also demands that Iran "suspend all enrichment-related and reprocessing activities, including research and development."
The resolution does not automatically impose sanctions on Iran if it does not meet the August 31 deadline, but requires the Security Council to hold further discussions before it considers sanctions. During weeks of negotiations, the EU-3 (United Kingdom, France, and Germany) and the United States reportedly had pressed for a resolution imposing the sanctions automatically if Iran did not suspend its nuclear program by a set date.
The resolution passed by a vote of 14 to one, with Qatar the lone dissenter.
U.S., Europeans Pleased With Result
Although it was not as strongly worded as they had sought, U.S. and European representatives expressed satisfaction with the resolution.
U.S. Ambassador John Bolton said that in his opinion, Iran has only one pragmatic choice.
"We hope that Iran makes the strategic decision that the pursuit of programs of weapons of mass destruction makes it less -- and not more -- secure," Bolton said, adding a warning concerning the article in the UN Charter on economic sanctions. "We need to be prepared, however, that Iran might choose a different path. That is why it is important that the United States and other member states have expressed their intention to adopt measures under [UN Charter] Article 41 in the event that Iran does not comply with this resolution."
British Ambassador Emyr Jones Parry emphasized that the resolution is not only about possible sanctions. He made it clear how the West expects Iran will benefit if it suspends its nuclear program.
"The proposals offer Iran a way forward that would enable a solution based on mutual respect and cooperation, that would give Iran everything it needs to achieve its stated ambition of developing a modern civil nuclear-power industry, including: active support in the building of light-water power reactors in Iran, participation in a uranium-enrichment facility in Russia, and legally binding assurances relating to the supply of nuclear material," Jones Parry said.
The incentives also include economic benefits and a U.S. offer to lift some existing sanctions. Washington has offered to negotiate directly with Tehran for the first time in nearly three decades -- something Iran has demanded -- if it first halts contentious activities.
Tehran's Stance Firm
Iranian President Mahmud Ahmadinejad on July 30 reiterated that Iran would not make any concessions regarding its nuclear program, and he rejected the UN draft resolution.
The same day, Iranian Foreign Ministry spokesman Hamid Reza Asefi warned that Tehran would abandon the package of nuclear incentives offered by the international community if the Security Council approved the resolution.
Asefi said that if any resolution is issued against Iran, the package would be left off the agenda by Iran.
Giving Iran Time
Germany and the council's five permanent members with veto power -- the United States, Russia, China, France, and Britain -- had all agreed on the text of the resolution before it was submitted. But Russia and China, which have extensive commercial ties with Iran, have signaled reluctance to impose sanctions on Iran.
Russian UN Ambassador Valery Churkin said on July 30 that the August 31 deadline was to meet Iran's request that it be given until August 22 to respond to an offer in June from the six countries of an incentives package in exchange for suspending its nuclear work.
U.S. envoy to the IAEA Gregory Schulte predicted to Radio Farda today ahead of the Security Council vote that the resolution would "make mandatory the suspension of enrichment and reprocessing capabilities and to make clear that if Iran refuses to comply with this, they'll work for the adoption of measures under the UN charter that would impose, for example, economic sanctions."
The United States has accused Iran of secretly seeking to develop nuclear weapons, a threat that Iranian officials have consistently rejected. The IAEA has also expressed its frustration at Iranian intransigence and said Tehran has done too little to convince the UN nuclear watchdog that its nuclear ambitions are purely peaceful.
Qatar's ambassador, Nassir Abdulaziz al-Nasser, said his government was casting the only vote against the resolution because of the rising tensions in the Middle East from Iraq to Lebanon. He said it would be worth waiting another three weeks to hear Iran's response without threatening sanctions in the meantime.
(compiled from agency reports)
What Would Sanctions Mean?
What Would Sanctions Mean?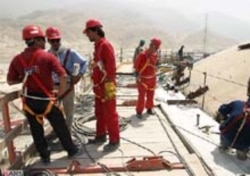 Economic sanctions could further undermine Iran's already shaky economy (Fars)


MOVING TOWARD SANCTIONS: If the United Nations Security Council imposes sanctions on Iran, domestic support for Iranian President Mahmud Ahmadinejad will wane, according to ALEX VATANKA, Eurasia editor for Jane's Information Group.
Vatanka told a February 24 RFE/RL briefing that "economic sanctions will hurt the average Iranian" and, consequently, many "will blame the ruling clerics" for making life difficult and "impairing the country's long term development."
Vatanka said sanctions would be a serious challenge to the Iranian government. If harsh economic sanctions were imposed, Iran's poorest population will be hurt the hardest -- and might react "as they did in the 1970s and protest in the streets." Sanctions on travel, Vatanka said, would hurt a many Iranians because "Iran is a nation of small traders" who depend on the ability to travel to earn an income. According to Vatanka, unemployment in Iran is estimated at 30 percent, "so small trading is essential to survival." Although current U.S. sanctions "haven't worked," he said, "Iranians fear an oil embargo." He stressed that "oil revenues are a major part of the economy, so it is critical to look at this sector."
Should negotiations with the European Union and the UN fail, Vatanka believes that Iran would follow a "North Korea model," since Ahmadinejad's base of support among the "Islamist militias" has been "urging withdrawal from the NPT [Nuclear Non-Proliferation Treaty]." The Iranian government's "tactic" so far, Vatanka said, is governed by the belief that "by shouting the loudest, you'll get concessions [from the West]."
LISTEN
Listen to the complete panel discussion (about 60 minutes):

Real Audio
Windows Media

THE COMPLETE STORY: RFE/RL's coverage of the controversy surrounding Iran's nuclear program.
CHRONOLOGY
An annotated timeline of Iran's nuclear program.