WASHINGTON, July 31, 2006 (RFE/RL) -- "We love martyrdom and are ready to go to Lebanon and Palestine with our bare hands to help the resistance, be it in relief work or even martyrdom," a young man said as he prepared to depart Tehran for Lebanon on July 26, the official Iranian Al-Alam television reported.
The man was reportedly part of a group of volunteers organized by the Pro-Justice Student Movement. The Al-Alam correspondent noted that the Turkish authorities might not let the volunteers -- "They call themselves living martyrs," he said -- enter their country on the way to Syria. There were approximately 60 volunteers of all ages, AP reported on July 27, and they will join 200 who preceded them.
"What they want is not limited to the destruction of Hizballah. They want to destroy all Islamic nations and governments."
Volunteers Stopped At Border
The Pro-Justice Student Movement and another organization, the Commemoration Headquarters for the Martyrs of Islam's World Movement, had announced on July 15 and 16 that they would be sending volunteers to Lebanon. But General Mohammad Hejazi, commander of the paramilitary Basij, said dispatching suicide bombers to Lebanon might be well-intentioned but it does not help Iran or Hizballah. Hejazi also denied an official connection with the volunteers.
This caravan of volunteers did not get far, as the authorities stopped them at the Bazargan border crossing near the eastern Turkish town of Gurbulak on July 28, AP and the Iranian Students News Agency (ISNA) reported. Spokesman Ali Komeili explained, "The authorities said we could not pass through the border as we were wearing a kind of uniform." The students began a sit-in.
Although these volunteer actions do not have an official imprimatur, Iran is openly dispatching other forms of aid to Lebanon. Iranian Deputy Health Minister Moayed Alavian led a delegation to Beirut on July 21, the Islamic Republic News Agency (IRNA) reported. Alavian said Iran will provide medical care and pharmaceuticals and added that two planeloads of aid have arrived in Damascus and are being sent to Lebanon.
The fifth consignment of Iranian aid destined for Lebanon arrived in Damascus on July 23, IRNA reported. The two aircraft carrying medicine and medical equipment from the Red Crescent Society came on the heels of four other aid shipments, Iranian Charge d'Affaires in Syria Ghazanfar Roknabadi said. "This is apart from our political support for the Islamic resistance movement against the assault of the Israeli regime," Roknabadi added. He described the provision of ambulances and food, and he said more ambulances, food, and medicine will be sent to Lebanon.
Clerical Encouragement
Iran's leading clerics are encouraging their countrymen to support Hizballah financially and in other ways. A joint statement from four of Iran's top clerics -- Grand Ayatollahs Nasser Makarem-Shirazi, Mohammad Fazel-Lankarani, Lutfollah Safi-Golpaygani, and Javad Aqa-yi Tabrizi -- said they will allocate a percentage of the funds they receive to the Lebanese people, Mehr News Agency reported on July 23. Makarem-Shirazi and Nuri-Hamedani added that other religious funds could be used to help Palestinians and Lebanese. Nuri-Hamedani explained: "This would be permitted as a means of strengthening the oppressed people of Lebanon, the Hizballah resistance front, as well as the oppressed Palestinians who are engaged in an Islamic jihad to defend themselves against diabolical and arrogant powers."
Grand Ayatollah Seyyed Ezzedin Zanjani condemned on July 25 the Israeli activities in Lebanon and Palestine, provincial television reported. He called on Muslims and Islamic governments to remain united and to assist "the pious and heroic Lebanese combatants." Also in Mashhad on July 25, the Khorasan-i Razavi branch of the Imam Khomeini Relief Committee said it is ready to collect people's contributions for the Lebanese and Palestinians.
"Hizballah asks [Iran's] permission to do things, especially if it has broader international implications."
Ayatollah Ebrahim Amini told officials of the Iranian national airline in Tehran on July 27 that Israeli actions in Lebanon and Palestine resemble the crusades, ISNA reported. He said the United States is allied with European governments in an effort to destroy Islam. "What they want is not limited to the destruction of Hizballah," Amini said. "They want to destroy all Islamic nations and governments." Amini denounced countries that cooperate with Israel.
Islamic Culture and Communications Organization head Ayatollah Mohammad Ali Taskhiri told the clerical community on July 27 that the Islamic world is waiting for the clergy to provide Hizballah with "all-out support," ISNA reported. He said the clerics must inform people using any means at their disposal, from the pulpits to the print and broadcast media.
Grand Ayatollah Hussein Nuri-Hamedani complained on July 27 that some Egyptian and Saudi clerics have encouraged "the global arrogance" with their religious decrees, ISNA reported. Sheikh Abdullah bin Jabreen, a Saudi Wahhabi, issued a fatwa against Hizballah and announced it is illegal for Muslims to support or pray for it, UPI reported on July 21. The governments in Cairo and Riyadh have called on Syria to limit its support for Hizballah. Now that Hizballah has stood up to Israel, Nuri-Hamedani said, Muslims must support the organization.
In The Basement Or In Damascus?
Iranian government spokesman Gholam Hussein Elham said on July 24 that the Islamic Republic will not send military personnel to Lebanon to participate in the current conflict, IRNA reported.
According to U.S. observers, Iranians are already there. Ambassador Henry Crumpton, the State Department's coordinator for counterterrorism, said on July 25, "I am confident that Iranian operatives are inside Lebanon right now with Hizballah," Reuters reported. Crumpton referred to Iran as "the paymaster" that spent "hundreds of millions of dollars" on arms and other forms of support for Hizballah.
Iran has greater influence over Hizballah than Syria does, Crumpton said, but it does not control the group. Iran is "clearly directing a lot of Hizballah actions," he said, and "Hizballah asks their permission to do things, especially if it has broader international implications."
If this is an accurate assessment, then it may explain Supreme National Security Council Secretary Ali Larijani's arrival in Damascus late on July 26. Mehr News Agency and Reuters reported he is to discuss regional developments with Syrian officials. Larijani also is expected to meet with Hizballah Secretary-General Sheikh Hassan Nasrallah, "Ha'aretz" and "The Jerusalem Post" reported on July 27, citing Kuwait's daily "Al-Seyassah." Nasrallah reportedly made the hazardous overland trip to Damascus in civilian -- rather than in clerical -- clothing.
There also were Israeli reports that Nasrallah was sheltering in the Iranian Embassy in Beirut. The Israeli "Ma'ariv" newspaper reported on July 26 that according to anonymous intelligence officials, Nasrallah is hiding in the embassy basement, which has become his "refuge and operations room." Iranian Foreign Ministry spokesman Hamid Reza Assefi told reporters in Tehran on July 26 that there is no truth to this "Israeli lie," IRNA reported.
Iran, Syria, And Hizballah
Iran, Syria, And Hizballah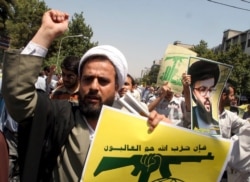 Iranians demonstrating in support of Hizballah in Tehran on July 17 (epa)

'FOR THE SAKE OF LEBANON': The Islamic Republic of Iran has served as an ideological inspiration for Hizballah since the Lebanese militant group's creation in 1982, and Tehran acknowledges that it supports the organization morally and politically. "Yes, we are friends of Syria and Iran" Hizballah leader Hassan Nasrallah has said. "For 24 years we benefited from our friendship with Syria and Iran for the sake of Lebanon...." (more)
RELATED ARTICLES
Tehran Playing Key Role In Israel-Lebanon Crisis
Iran, Hizballah Brush Off U.S. Terrorism Label
Intifada Conference In Tehran Has Multiple Objectives
UN Resolution Rankles Syria, Hizballah, Iran
ARCHIVE
RFE/RL
coverage of Iran
. RFE/RL web special on
Iran's nuclear program
.
SUBSCRIBE
For weekly news and analysis on Iran by e-mail,
subscribe to "RFE/RL Iran Report."