PRAGUE, July 31, 2006 (RFE/RL) -- The Student Committee of Human Rights Reporters of Iran reported Mohammadi's death in a statement released today.
The news was soon confirmed by Sohrad Soleimani, the head of Tehran Province's prison authority.
Soleimani told Iran's ISNA student news agency that Mohammadi fell ill while showering with other inmates, then died during his transfer to the prison infirmary.
Soleimani did not elaborate on the cause of death, saying coroners have not yet reached a conclusion.
Resolute In Seeking Release
Reports suggest Mohammadi had been on hunger strike since July 23. But a fellow inmate -- another former dissident student -- told Reuters today that Mohammadi launched his protest in May in a bid to secure his release.
Mohammadi's lawyer, Nemat Ahmadi, told Radio Farda today that his client sounded resolute about not letting his determination falter:
"A few days prior to going on hunger strike, [Mohammadi] called me and told me he would stop taking food, and stand [firm] until the end," Ahmadi said.
Reuters today quoted Iranian Justice Minister Jamal Karimirad as saying that Mohammadi was under close medical supervision and that his health deteriorated on July 30.
A friend of Mohammadi's, who identified himself as Morad Moallem, told Radio Farda that prison authorities tried forcibly to feed Mohammadi -- but to no avail.
"After five days of hunger strike, they took him to the [prison] infirmary in a possible bid to make him a serum injection, but he resisted and did not let them [inject the serum]," the acquaintance said. "He subsequently understood that the reason for [the injections] was that some parliamentarians were going to visit the prison. They had taken him to the infirmary so that [the parliamentarians] would not see him. They put tape on his mouth so that those parliamentarians could not even hear him, and they bound his hands and feed to his bed."
1999 Protest Leader
A student in social sciences, Mohammadi was arrested during the peaceful protests of 1999 that are considered to have fueled one of Iran's biggest domestic crises since the Islamic revolution two decades earlier.
The student protests were primarily aimed at restrictions on freedom of the press.
Clashes between protesters and members of the Iranian security forces -- reinforced by the pro-government vigilante student group Ansar-e Hezbollah -- claimed at least one life. Hundreds of protesters were arrested, and many received court sentences.
In September 1999, Tehran's Revolutionary Court sentenced Mohammadi to death after a trial that rights group say was unfair. Although Iran's Supreme Court upheld the sentence in 2000, it was eventually commuted to 15 years in jail -- reportedly following the intervention of Supreme Leader Ayatollah Ali Khamenei.
Two other leaders of the 1999 student protests, Ahmad Batebi and Ali Shafei, were sentenced to death along with Mohammadi. Their sentences were commuted to 10 years and 2 1/2 years in jail, respectively.
Accusations Of Abuse
Rights group say Mohammadi was tortured during his detention, and that it seriously damaged his health. He was reportedly suffering from kidney ailments and hearing problems.
Another of Mohammadi's lawyers, Khalil Bahramian, complained that prison authorities had not allowed him to visit his client once he launched his hunger strike. The lawyer called it another violation of national and international law.
On July 25, Bahramian told Iran's ILNA news agency that Mohammadi's brother, Manuchehr, was also in poor health.
Manuchehr Mohammadi is serving a 15-year prison sentence in another Tehran prison. He, too, was arrested in the wake of the 1999 student protests.
(Radio Farda correspondent Niusha Boghrati contributed to this report.)
Women In Iran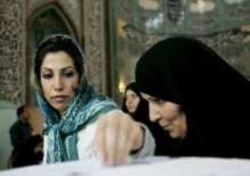 Women in Tehran (epa file photo)

CALLING FOR MORE RIGHTS: Although women played key roles in Iran's 1979 Islamic Revolution, the place of women in post-revolutionary society has been a vexing question. Iranian women have struggled to bring attention to their calls for greater rights in their country's rigid theocratic system, calls that have often clashed with the values proclaimed by conservatives in society. (more)
RELATED ARTICLES
Tehran Police Renew Campaign To Combat 'Un-Islamic' Dress
Iranian Peace Prize Laureate Shirin Ebadi On Women's Rights
Activists Concerned About Self-Immolation Of Iranian-Kurdish Women
The Younger Generation's 'Tehran Blues'
ARCHIVE
RFE/RL's coverage of Iran. RFE/RL's coverage of issues concerning women throughout our broadcast area.

SUBSCRIBE
For a regular review of civil-society developments throughout RFE/RL's broadcast region, subscribe to "RFE/RL (Un)Civil Societies."