Theft From Hermitage Museum 'Inside Job'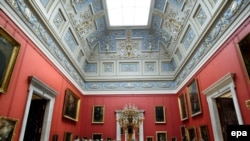 The Hermitage, Russia's most famous museum (epa) August 1, 2006 -- The director of Russia's Hermitage Museum, Mikhail Piotrovsky, says the theft of jewelry worth $5 million can only have taken place with the complicity of museum staff.
The loss of several hundred items came to light on July 31 during a routine inspection.
The items were not insured. Piotrovsky said the jewelry was in storage, and the theft probably took place some time ago.
(AP)